Commencement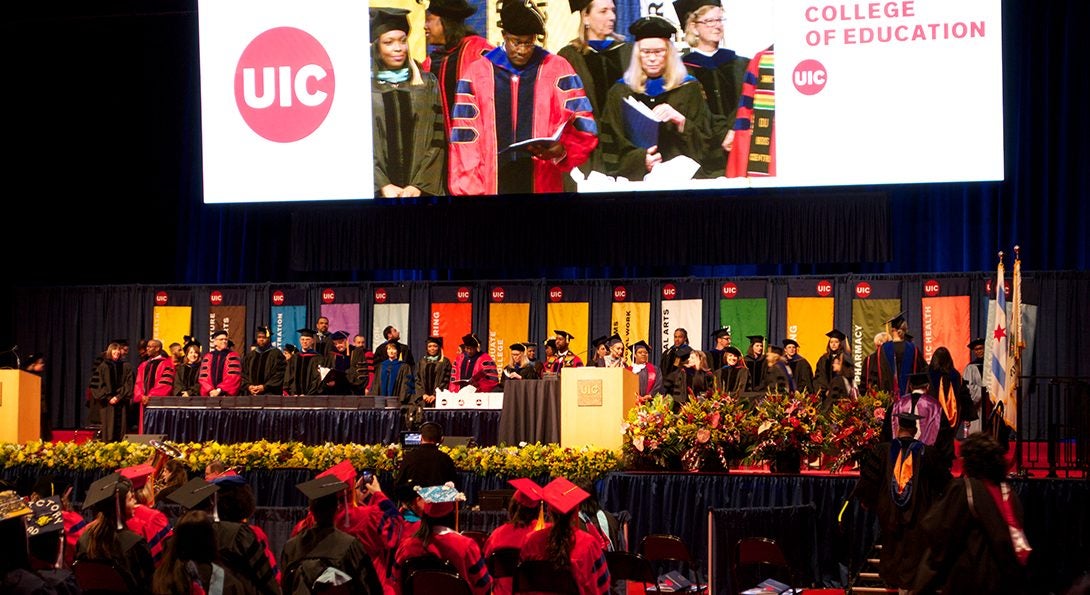 The College of Education's Commencement Ceremony is on Friday, May 6, 2022 at 9:00 a.m. in the Credit Union 1 Arena located at 525 S Racine Ave, Chicago, IL 60607.
Please visit UIC Commencement for the most up to date information.
Tickets for Guests
Guest tickets are not required for the College of Education ceremony. There is no limit to the number of guests allowed. Seating is on a first come basis.
Registration (Graduates Only)
Registration for graduates is required. Registration links have been sent. If you have not received the link, please email commencement@uic.edu.
Ordering Caps and Gowns
Caps and gowns will be available for purchase in the UIC Bookstore beginning April 4 for those who did not purchase from Josten's. In store stock may be limited.
Arrival
Doors open at 8:00 a.m. Guests should enter through the Credit Union 1 Arena main entrance.
COVID-19 Restrictions
Masks will now be required for all graduates and guests at commencement.  Graduates will be allowed to temporarily remove their masks while on stage for photos.  Please make sure that your guests are aware of this updated policy.
Proof of vaccination or negative covid test are still not required.
Policies are subject to change.
Reception
Immediately, following the ceremony, there will be a reception with appetizers, desserts, and coffee in the Student Services Building (SSB). SSB is at 1200 W. Harrison, directly west of the Credit Union 1 Arena. Our dean, faculty, and staff will be present to share in our graduates' accomplishments and to celebrate with them.  Families and guests are invited to join graduates for this reception, and no RSVP is needed.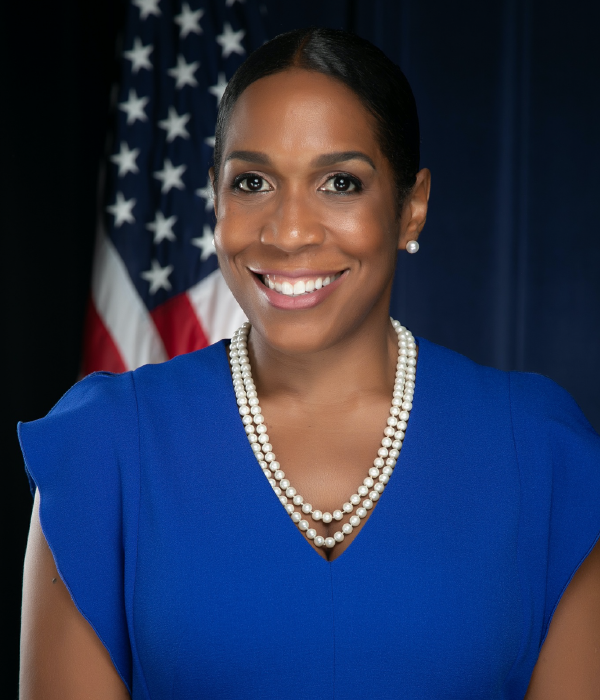 Lieutenant Governor Juliana Stratton
Juliana Stratton is the first Black woman to serve as Illinois' Lieutenant Governor. In addition to spearheading the administration's Justice, Equity, and Opportunity Initiative, Stratton also heads more than a dozen councils, commissions, boards and agencies as Chair or executive liaison. She has received numerous awards and accolades for her commitment to public service and social justice advocacy, including being named one of the "50 Most Powerful Women in Chicago."
Important Links for Graduating Students & Their Families Heading link
Important Links for Graduating Students & Their Families
What is the difference between Commencement and Graduation? Heading link
Graduation is the official awarding of degrees earned, while Commencement is the event which celebrates the completion of degree programs.