Commencement
The College of Education's Commencement Ceremony is on Thursday, May 4, 2023 at 7:00 p.m. in the Credit Union 1 Arena located at 525 S Racine Ave, Chicago, IL 60607.
Please visit UIC Commencement for the most up to date information.
Tickets for Guests
Guest tickets are not required for the College of Education ceremony. There is no limit to the number of guests allowed. Seating is on a first come basis.
Registration (Graduates Only)
Registration for graduates is required. Registration links have been sent. If you have not received the link, please email commencement@uic.edu.
Ordering Caps and Gowns
Caps and gowns are now available through the Josten's website.  Orders will be shipped directly to your home within 5 weeks.  The deadline to order is March 17.
Arrival
Doors open at 6:00 p.m. Guests should enter through the Credit Union 1 Arena main entrance.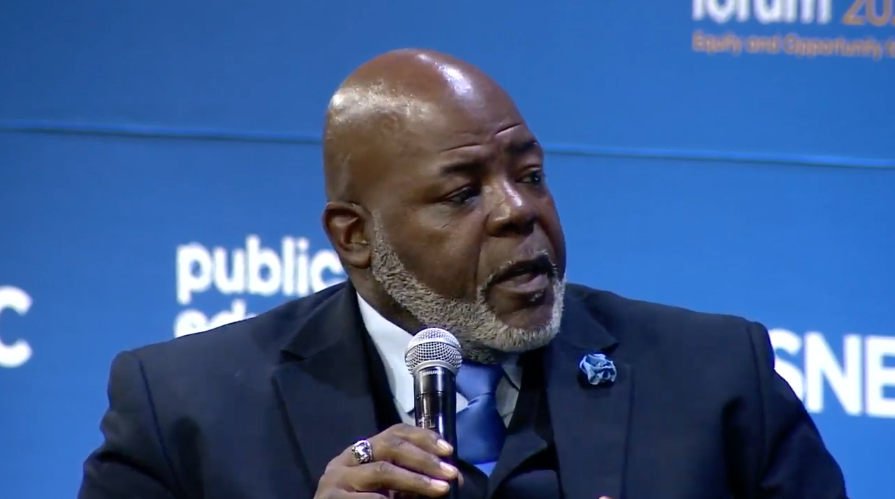 Jitu Brown, married and father of one child, is the national director for the Journey for Justice Alliance, a network of grassroots organizations in over 30 cities organizing for community driven school improvement; and was formerly the education organizer for the Kenwood Oakland Community Organization (KOCO).  Born and raised in the Rosemoor neighborhood on the far south side of Chicago, Jitu is a product of Chicago Public Schools.  Jitu studied at Eastern Arizona College and Northeastern Illinois University, majoring in communications with a minor in Spanish.
Jitu started volunteering with the Kenwood Oakland Community Organization (KOCO) in 1991, became a board member in 1993 and for several years served as the organization's board president.  He joined the staff as education organizer in 2006.  He has organized in the Kenwood Oakland neighborhood for over 22 years bringing community voices to the table on school issues.    He helped develop the Mid-South Education Association, a grassroots advocacy group made up of administrators, parents, teachers, young people and local school council (LSC) members to meet the needs of schools in the area.  They were the first group to certify parents as LSC facilitators, which has become a model being replicated across the city of Chicago.  KOCO has served as a resource for organizations nationwide, dealing with school closings and the elimination of community voice from the decision-making process.  In 2015, Jitu was the organizer and participant in the historic Dyett High School Hunger Strike, which lasted for 34 grueling days; and resulted in the re-opening of Dyett as an open-enrollment, neighborhood school with over $16 million in new investments.
For 10 years, Jitu taught African-American history at St. Leonard's Adult High School, the only accredited high school in that nation that exclusively serves people who have been formerly incarcerated.  A believer in working locally and thinking globally, Jitu has taken youth leaders from KOCO to the United Nations, to the Passamaquoddy Native American reservation in Maine and to the UN Conference on Racism in South Africa.  He has been published in the national education magazine Rethinking Schools, the Washington Post, New York Times, appeared in Ebony magazine and on several talk shows, including MSNBC's Melissa Harris-Perry and The Ed Show, Al Jazeera America, WBEZ's Community Voices, Democracy Now and CLTV's Gerard McClendon Live.  Jitu is a Public Voices Fellow for the Ford Foundation's Op-ed Project and a Senior Fellow for Racial Equity with the Atlantic Institute.
Important Links for Graduating Students & Their Families Heading link
Important Links for Graduating Students & Their Families