Preparing Chicago's elementary school leaders
The Urban Education program with Elementary Education Concentration is committed to developing a generation of teachers who use their own diverse cultural, linguistic and economic backgrounds to improve urban schools and empower children and youth. Our students, as teacher candidates, benefit from working with some of the best education faculty in the world. They gain real-world experience through partnerships with carefully selected mentor teachers in the communities and schools of Chicago. Students spend their fieldwork-based semesters working in community schools with diverse student populations that are typically under-resourced to cultivate unique skill sets for success.
The Elementary Education Concentration prepares students to become licensed teachers for grades 1-6, with the option to add a Middle Grades Endorsement (grades 5-8) across the major content areas. In addition, students can pursue the endorsements in English as a Second Language and/or Bilingual Education. Our graduates are job ready because they are prepared to meet these areas of need.
The extensive in-school immersion, with nearly 1000 hours of fieldwork experiences, is an essential component of the program and prepares teachers to lead in classrooms from day one. Students begin their in-school work junior year.
The Path to Licensure: Teacher Candidacy Fieldwork
| | Junior Year (Fall) | Junior Year (Spring) | Senior Year (Fall) | Senior Year (Spring) |
| --- | --- | --- | --- | --- |
| Fieldwork hours | 120 hours | 120 hours | 180 hours | 450 hours |
| Location | Community schools with diverse student populations that are typically under-resourced. | Community schools with diverse student populations that are typically under-resourced. | CPS school with mentor teacher. | CPS school with same mentor teacher. |
| Activities | Observe classes, develop lesson plans, teach lessons, working in pairs with carefully-selected mentor teachers. | Observe classes, develop lesson plans, teach lessons, working in pairs with carefully-selected mentor teachers. | Pre-student teaching practicum, working one-on-one with a specially trained mentor teacher, often a graduate of the BA program. | Full semester of student teaching with the same mentor teacher from previous semester. |
Urban Education Program Contacts
Natalie Leoni
Director of Recruitment
Jennifer DeLago
Coordinator of Advising and Registration
Victoria Trinder
Urban Education Faculty Program Coordinator & Clinical Assistant Professor
Alumni Profiles: Israel Hernandez and Carmen Washington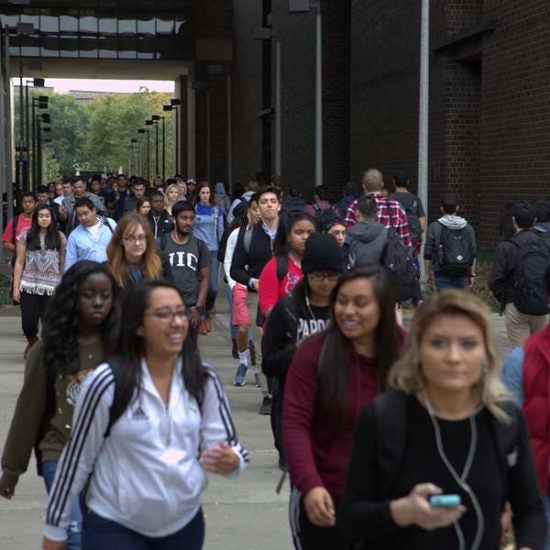 Office of Student Services
1040 W. Harrison St.,
3145 ETMSW,
Chicago,
Illinois
60607