Culturally Relevant Writing Focus of Research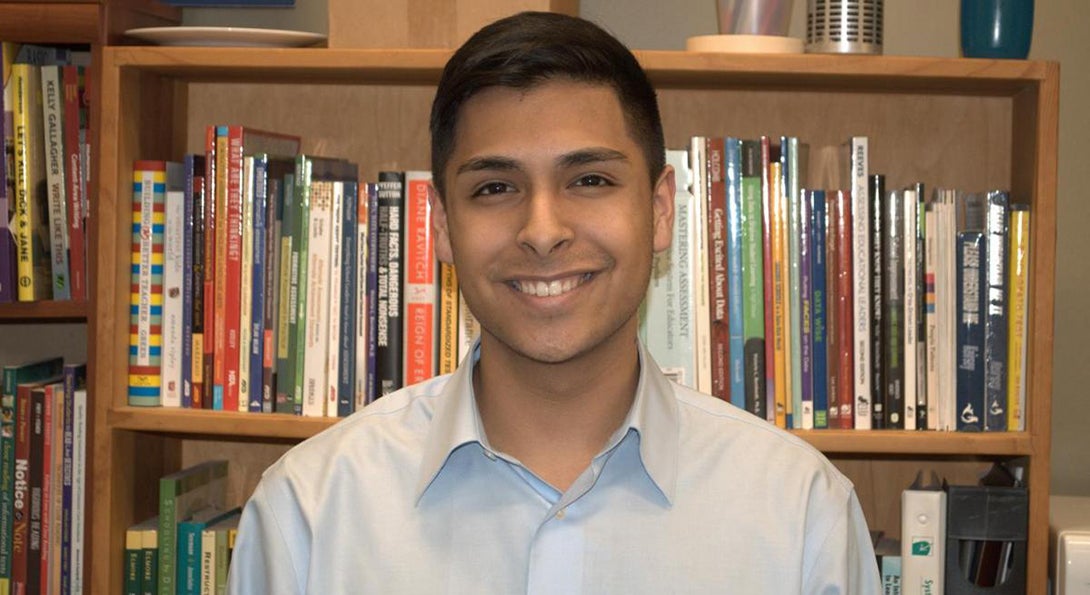 When Daniel Rocha was a high schooler, he fell in love with writing as a junior thanks to what he calls a phenomenal teacher.  Now he is preparing to take on that same mantle through a research project on culturally relevant writing.
Rocha is one of the first College students awarded a 100 Hour Undergraduate Research Internship through the College's Office of Research.  Working with Rebecca Woodard, PhD, assistant professor of curriculum and instruction, Rocha is studying culturally relevant writing and building strategies for employing this writing technique with elementary and middle school students.
"There is a lot of great information on high school kids and how we can teach writing that is compatible to their cultures and personalities, but it's a lot harder to figure out for younger kids," Rocha said. "Writing is so incredibly vital to our success in academics and life in general, so being able to teach writing that is relevant to students so they realize it is useful is something that is so important."
Through the internship, Rocha spent the winter break engaging in a literature review and plans to work with Woodard to detail what culturally relevant writing instruction can look like for younger students.  The research corresponds with Rocha's student-teaching fieldwork position this spring at Morrill Math and Science School in Chicago's West Englewood neighborhood, where he is teaching fifth-grade lessons in English, language arts and social studies classes.
The research experience and his on-the-ground training at Morrill are shaping his viewpoint on how to connect with students in writing tasks.
"I've learned it definitely comes down to understanding who your students are able to identify with and what factors appeal to them," Rocha said. "You need to establish a positive rapport with students and get their own input on previous writing lessons to learn what worked and what didn't, analyzing the way they write and they think."
Rocha says the opportunity to engage in research as an undergraduate is key because he says future teachers in literacy need to determine how language arts instruction can be enhanced.  This research experience is molding his understanding of how reading and writing are taught in classrooms today and what the field of both teaching and researching education can look like down the road.
"The opportunity to engage in these relationships with professors and research is really positive," Rocah said. "It will only be beneficial because of the knowledge the faculty have and how that knowledge can help us develop as a teacher."
Modified on October 05, 2017