Family Literacy Promoted Through "Love Notes"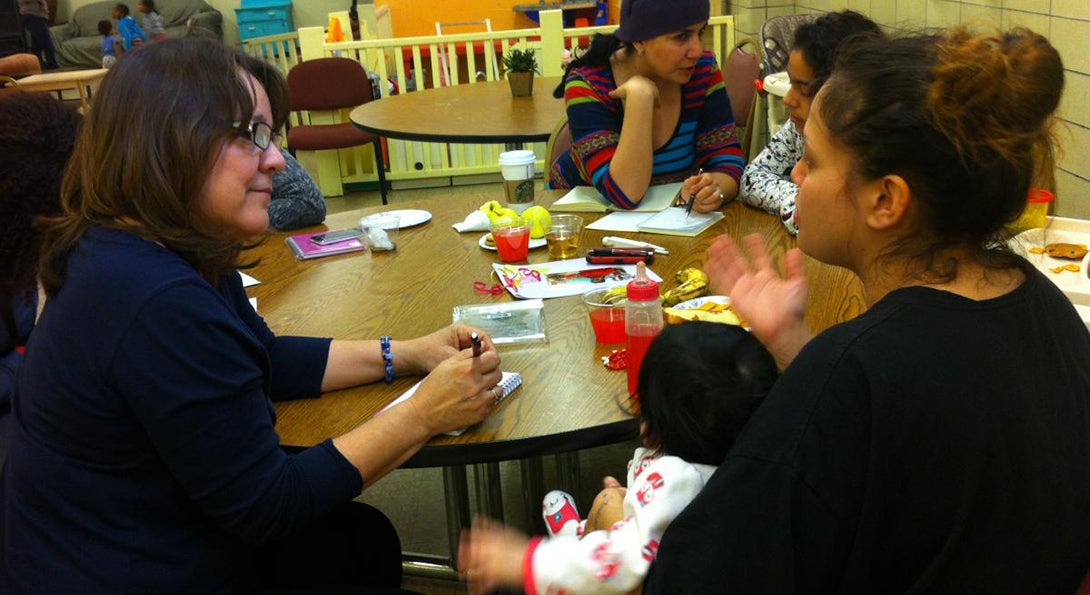 What is the value of a memory?  A family literacy program is attempting to answer that question.
Alumna Cheryl Watkins piloted a Dean's Community Engagement project at Maria Shelter in Englewood, run by the Institute of Women Today, hoping to work with mothers to write about a happy or cherished memory to share with their child.  She encountered memories happy and sad, but what she found was a litany of intrinsically valuable lessons learned from the bumpy roads that led these women to the shelter.
During her project, "Love Notes," Watkins, her sister and a few of her  close friends, collaborated with residents at the shelter to brainstorm, write, edit and share any memories participants felt would be a valuable story.
"Living in a shelter is not an ideal situation for everyone, so I wanted them to really think about something that was happy," Watkins said. "As the women started sharing, it became, 'Wow, this is a story that will really help another woman.'"
Watkins, PhD Special Education '15, loves the process of writing and cherishes facilitating storytelling with others.  She worked closely with the women to elicit deeper imagery in their stories, asking prodding questions for details and teaching the women how to ask questions of each other to create richer stories.  As the project continued, residents grew confidence in their own writing and editing skills, gaining comfort in dictating exactly how they wanted their stories spelled out.
The stories the women crafted made Watkins "clutch my heart."  One resident, Andrea, shared a story of how she purposefully rode certain CTA trains at night to increase her chances of staying on a train for the duration of the night.  She shared her struggles of life at other shelters, raising two children.  She relayed the trials of her drug use and her struggles to find full-time employment.  But she also shared her successes, landing a job and now secure in her employment.
Another woman, Eunice, was reluctant to participate.  She freely admitted she showed up to workshops for the free backpack and the treats.  Watkins and another volunteer, Peggy Snowden, also PhD Special Education '15, convinced her to participate, leading Eunice to share stories of the "front porch," a space within the shelter on the first floor where residents gathered to dispense advice to other women and their children and to look out for one another, the embodiment of community.
Other women shared struggles with mental illness, injured relationships and stories of family rejection.
Watkins requested volunteers with the project to journal their reflections from the experiences.  Volunteers agreed that while many of the memories shared were from painful experiences, the strength and resiliency of the residents shone through.
"You learn that anyone can be in this situation," Watkins said. "The project wasn't so much about the journals or backpacks and books donated, it was being able to see the fruits of the labor, a testament to the resilience and strength and love of the women."
Watkins plans to launch another series of workshops at the shelter, as she says the residents are eagerly awaiting new opportunities to write and share memories.
Modified on November 01, 2017