Literacy for Youngsters Impacted by Gaze, Gesture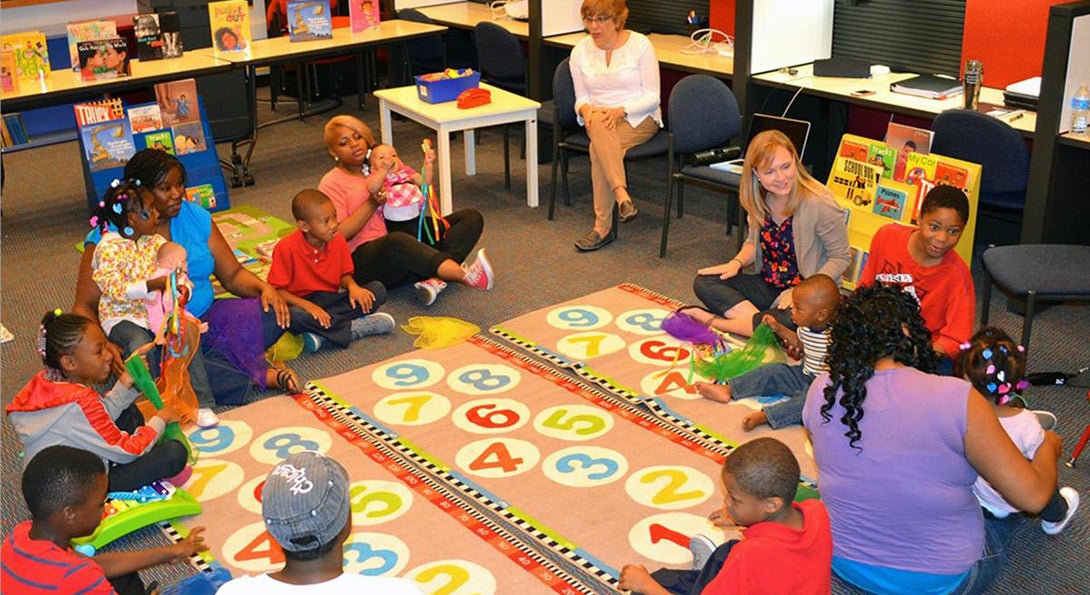 The spoken word is clearly a critical part of a child's literacy development, to the point that parents-to-be will read to their child in the womb.  But what if what mothers and fathers do is equally important as what they say in their child's language development?
That is a question PhD Literacy, Language and Cultural student Colleen Whittingham (below, right with hands on knees) is seeking to answer in her doctoral thesis.  Her research is focusing on language development at the "site of interaction" between adolescent mothers and their toddlers, analyzing moments of shared attention:  gaze, gesture, how both mother and child use their bodies and their words to interact with one another and the environment around them.
"Looking at how much of literacy actually happens and develops in the space outside of books, that really brought me to an emphasis on language and how supporting authentic interactions can really increase exposure to language in a way that can be supplemented by books, but not only accomplished by books," Whittingham said.
Through partnerships with community organizations in the Austin neighborhood of Chicago, Whittingham has welcomed adolescent mothers and toddlers for two summer institutes run by the UIC Reading Clinic:  Open Books, Open Doors and the Community of Parents Investing Richly in Children's Literate Lives (CIRCLL).  In each summer session, Whittingham has led group literacy activities with mothers and children, ranging from group and one-on-one reading to musical role playing and story creation.  Mothers in attendance gain strategies for building their child's language and literacy development in the home, while Whittingham benefits from the real-world perspectives of adolescent mothers in action.  Through observations and interviews, she is drawing upon the lived experiences of young women raising children to examine how support systems can be transformed beyond a setting like the UIC Reading Clinic.
As part of her research, Whittingham engages in text conversations with mothers in the home to gauge real-time lived literacy experiences, checking in to see texts and media these mothers interacted with.  She has also submitted a grant proposal to develop an app that provides push notifications of literacy learning opportunities for mothers and children.  While current apps provide short bursts or activities or conversation topics during waiting periods, like a trip to the doctor's office, Whittingham aims to develop an app that is more responsive and less passive in its accessibility.
Whittingham sees value in her research in that most studies of adolescent mothers and literacy are more ethnographic in nature or disaggregation of census data predicting learning outcomes.  Whittingham says she hopes her research into the actual lived literacy experiences of adolescent mothers can shed light on a population she says "everyone needs to be paying attention to, anyone who is engaged in family literacy work."
"I'm at a place of really thinking about mixed methods, in that I'm trying to relay information that should have policy implications while still providing a human voice," Whittingham said. "This project is about seeking results that can be shared and that have relevance on a broader scale without losing individuality and identity and lived experiences."
Modified on September 27, 2017