Math Made Meaningful to Urban Students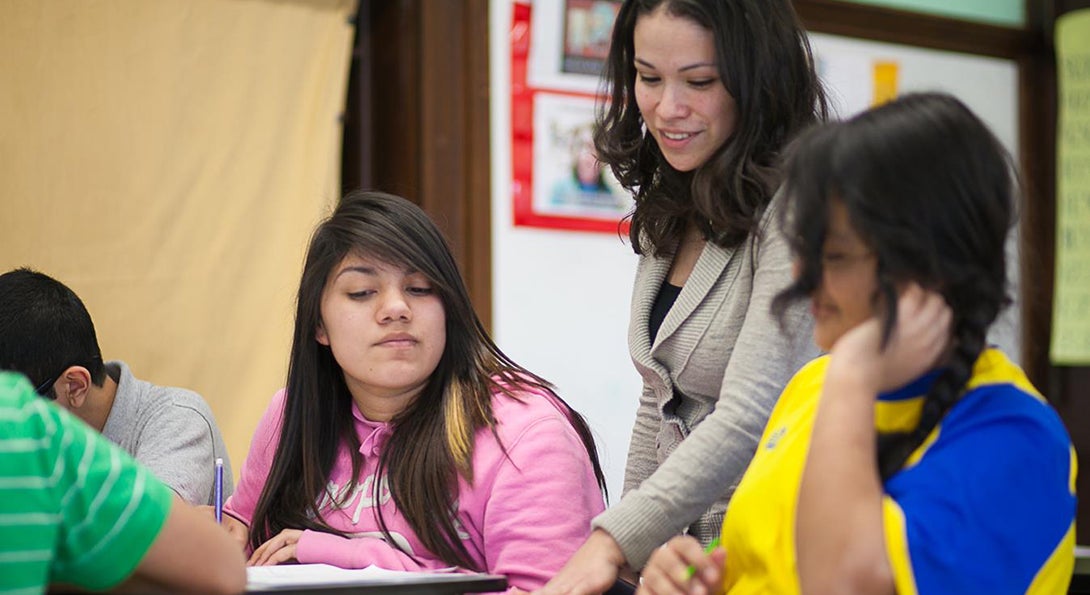 When urban teens of color are nabbed drawing graffiti on buildings and structures, the criminal justice system is all too likely to label these young adults as taking the first steps towards a life of crime.  College of Education alumna and teacher Jasmine Juarez sees a bunch of math nerds—perhaps unruly nerds, but nerds nonetheless.
At Sawyer Elementary School on Chicago's west side, several of her Latina/o students engage in tagging, the drawing of one's name graffiti style.  She has reminded her students of the legal ramifications of their actions, but…
"I overheard them talking about what they want their tagging names to be, and one said, 'I want to be Slope,' and here I am at my desk thinking, Slope?" Juarez said. "And his friend said, 'I want to be Radical, that would be so cool.'
"Seeing that they are picking up on mathematical language and integrating into their lives in either positive or negative ways, it brings me sadness they are tagging but that they are translating math into their lives, I couldn't be happier."
Why so much joy?  Because as an 8th grade math teacher, the BA Urban Education: Elementary Education '12 grad and current PhD Math and Science Education student realizes the sheer audacity of her task at hand.  Not only is she charged with ensuring her students are meeting 8th grade standards, when many are still lagging on 6th and 7th grade standards, but Juarez is charged with building connections to mathematics in students' lives to combat the critical lag in the number of Latina/o students pursuing science, technology, engineering and mathematics (STEM) fields in higher education and the professional world.
For Juarez, that task means bridging from abstract math to students' everyday lives.  She says at the start of each school year, only one or two students will admit any sort of interest in the subject, but what is often portrayed as an attitude of indifference towards math and other STEM fields quickly fades away as students build life connections to the subject.  Her attack is three-pronged:  in the classroom, after school and in the community.
Take the Pythagorean theorem, for example.  After investing time at the start of the school year to engage with students' interests and comfort zones revealed a mutual love of art across the class body, Juarez devised a joint math-art lesson combining Pythagoras and Picasso in mélange of right triangles.  Approaching Valentine's Day, she incorporates shopping for candy into lessons on systems of equations.
After school, she works with a science club that brings students to the Museum of Science and Industry as well as field trips to meet with NASA scientists via video conference.  Juarez is building a robotics club at the school and hopes to launch a STEM club in the coming years.
"The biggest challenge is getting them to see how math can be an outlet that takes them further in life," Juarez said. "When I ask for students' goals, half the class says their goal is to graduate from eighth grade, but I need to make them realize that's not a goal, it's a step.  Developing goals further beyond this year has opened their eyes more to different careers."
Incorporating technology gives Juarez a platform to enable students to begin devising these new life paths in very public ways.  Her students build their own websites where they host their work, and she encourages her students to post pictures of their classroom work to Facebook and Instragram.  She says even a seemingly inconsequential Facebook post serves as part of the strategy as integrating math into the everyday lives of her students.
Juarez is generating more than Facebook likes; her students are genuinely responding to this new way of teaching math.  In surveys, her students say they have developed a relationship in math to their lifes and they can finally see a connection to how math can and will be used in their lives.  Some even use the word "fun" to describe the subject.
From a classroom starting with virtually no passion for math, the changeover is about as radical as a graffiti artist named Radical.
Modified on September 29, 2017