UIC's Project STAGE helps CPS kids learn science through art, movement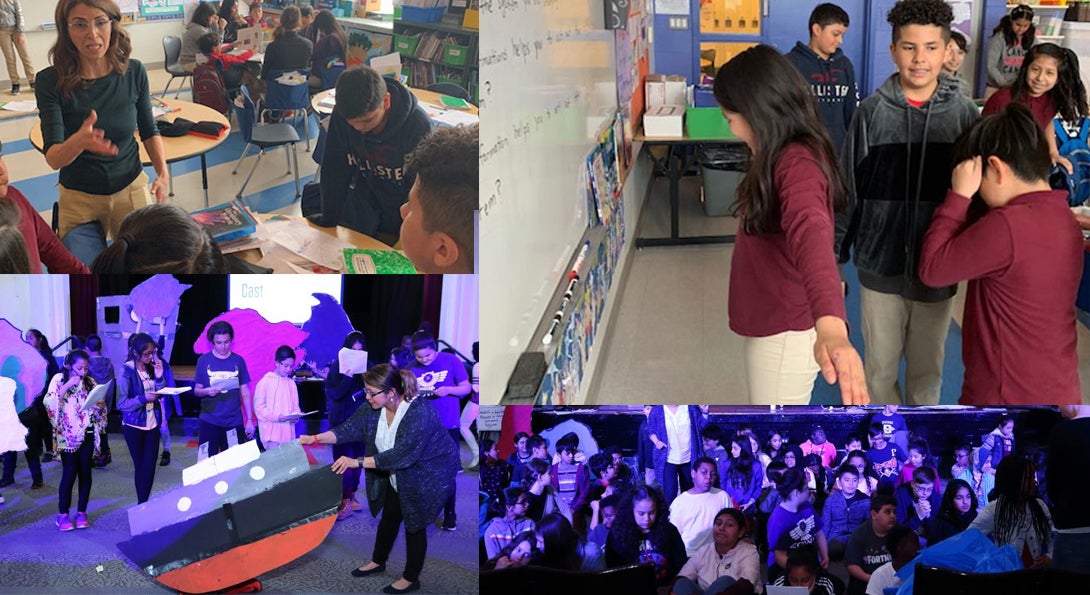 The UIC College of Education, CADA, and CPS collaborate to enhance science education through performance
As 11-year-old Miguel Zamora stood in Maria Rosario's classroom at the Prieto Math and Science Academy on the Northwest Side of the city, he slid his arms up against his body and then brought them back down repeatedly as if he was pushing something down.
Miguel continued the motion as his classmates, each one wearing a red or white paper sign to represent different kinds of blood cells, walked in a pattern around him. As Miguel increased the speed of his arm movements, the other students also sped up.
As part of Rosario's science class, the group was dramatizing the heart pushing blood out to the body. The rest of the class watched and then joined in a discussion to analyze their classmates' dramatization of the circulatory system. This class activity is part of an initiative at the University of Illinois at Chicago to use movement or drama to make abstract science ideas more concrete.
The effort, called Project STAGE, is run out of UIC's department of curriculum and instruction within the College of Education, and the School of Theatre & Music within the College of Architecture, Design and the Arts, or CADA. Project STAGE, which stands for Science Theater for Advancing Generative Engagement, is a UIC partnership with several neighborhood public schools in Chicago, including Prieto Math and Science Academy, 2231 N. Central Ave.; Boone Elementary School, 6710 N. Washtenaw Ave.; John Hay Community Academy, 1018 W. Laramie Ave.; and DeWitt Clinton Elementary School, 6110 N. Fairfield Ave.
Modified on July 16, 2019