Science Teacher Preparation Grant Begins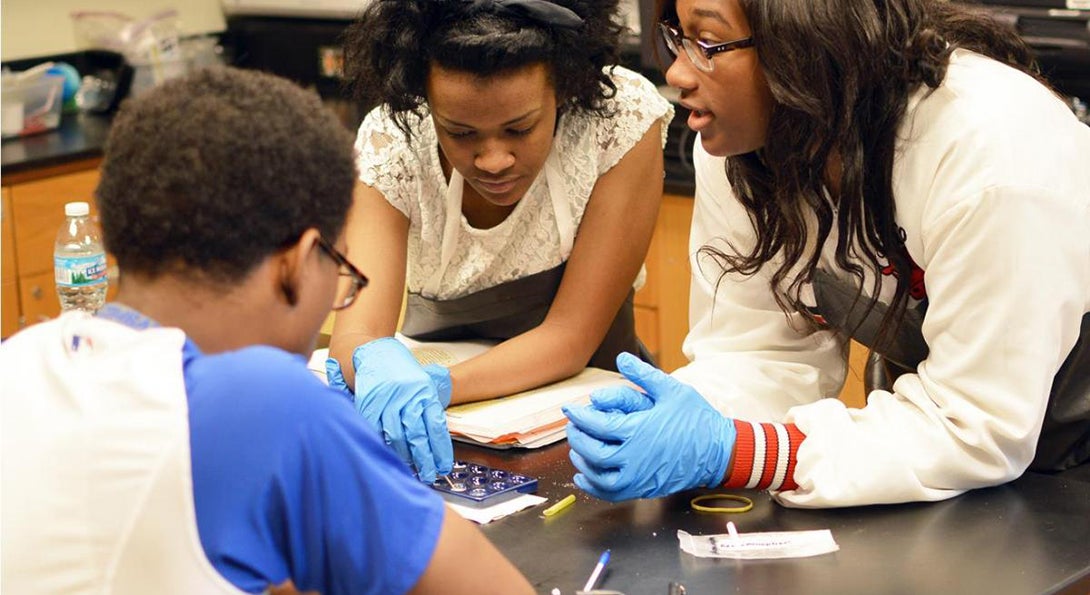 School closings in Chicago have affected African American students in a disproportionate manner, but the lesser-told story is the impact of closings on African American teachers.  Since 2000, school closings in predominantly African American neighborhoods have reduced the total number of Chicago Public School (CPS) teachers who are African American from 40 percent to 25 percent. While the percentage of Latina/o CPS teachers has increased slightly during this time, it has not kept pace with the growth in the Latina/o student population.
The lack of teachers African American and Latino/a students share a common racial, cultural, ethnic or linguistic background with is a deepening problem particularly acute in science.  The College of Education is seeking to rectify this issue with a new project funded by the National Science Foundation's Noyce Scholars program entitled "Science Education for Excellence and Equity in Chicago (SEEEC)." With $3 million in funding, SEEEC seeks to recruit and prepare new African American and Latino/a high school science teachers while also retaining and preparing existing CPS master science teachers to become leaders in CPS and urban science education.  The grant provides tuition waivers and stipends for 30 teaching fellows pursuing the College's Master of Education in Science Education with licensure for high school science teaching and for 10 master teaching fellows learning to conduct teacher inquiry projects and mentoring teaching fellows along with pursuing the College's PhD Curriculum and Instruction:  Mathematics and Science Education degree.
"Project SEEEC will enhance excellence and equity by developing urban science educators whose practice is standards-driven, evidence-based, research-informed, and responsive to community and student needs," said Maria Varelas, PhD, professor of science education and principal investigator of project SEEEC. Project SEEEC's co-principal investigators also include Carole Mitchener, PhD, associate dean of academic affairs and co-project investigator,who has led CPS partnerships through two previous Noyce grants; Danny Morales-Doyle, visiting clinical lecturer of curriculum and instruction and SEEEC project director; CPS Director of Science Chandra James; and UIC science faculty members Aixa Alfonso (Biological Sciences), Roy Plotnick (Earth and Environmental Sciences), Mike Stieff (Chemistry and Learning Sciences) and Randall Espinoza (Physics).
The project also includes partnerships with non-for-profit organizations that are grounded in Chicago's communities–Project SYNCERE, Little Village Environmental Justice Organization, Chicago Freedom School, Chicago Botanic Garden, Friends of the Chicago River, Institute for Latino Progress and Project NIA, seeking to increase scientific literacy, health, sustainability, and social justice in Chicago's neighborhoods.  Workshops provided by these organizations will help teaching fellows learn about community and cultural resources, as well as environmental, and other scientific, challenges native to and endemic in Chicago.
"We are emphasizing the strengths in Chicago communities, which can be leveraged by students and teachers to address the challenges these neighborhoods are facing," Morales-Doyle said.  "Our particular focus is preparing science teachers who are grounded in and responsive to Chicago communities.  We seek to educate teachers who can understand what their students are going through and help them develop the scientific and academic skills they need through culturally relevant teaching coupled with attention to the Next Generation Science Standards."
One example of an experience teaching fellows will have is a community asset toxic tour (photo below) that will be offered by the Little Village Environmental Justice Organization.  The tour includes visits to drum manufacturing sites, plastics recycling, chemical sites, brown fields and a Superfund, all within the confines of Chicago's Little Village neighborhood.  Teaching fellows will be learn about ways in which community members are seeking to hold industry and government officials accountable for toxic pollution in the neighborhood.  Morales-Doyle hopes these future teachers will build both teaching and advocacy skills through these experiences.
"Project SEEEC's focus on making deep connections between science learning and community concerns is likely to lead to increased levels of scientific literacy for all students and also prepare a generation of STEM professionals who are community and service oriented," Mitchener said.
Morales-Doyle says the grant program provides support for students from working-class backgrounds who might otherwise immediately enter the workforce after completing their bachelor's degree to pursue a career as a science educator instead.  Similarly, the grant will help address science teacher attrition within CPS through the master teaching fellows program.  The project's ultimate goal, Varelas says, is for experienced CPS science teachers to develop into leaders in urban science education by engaging in advanced graduate study and by gradually assuming leadership roles within Project SEEEC, CPS, and professional organizations in the state and nationally.
Modified on September 25, 2017