STEM Racial Gap Examined in Research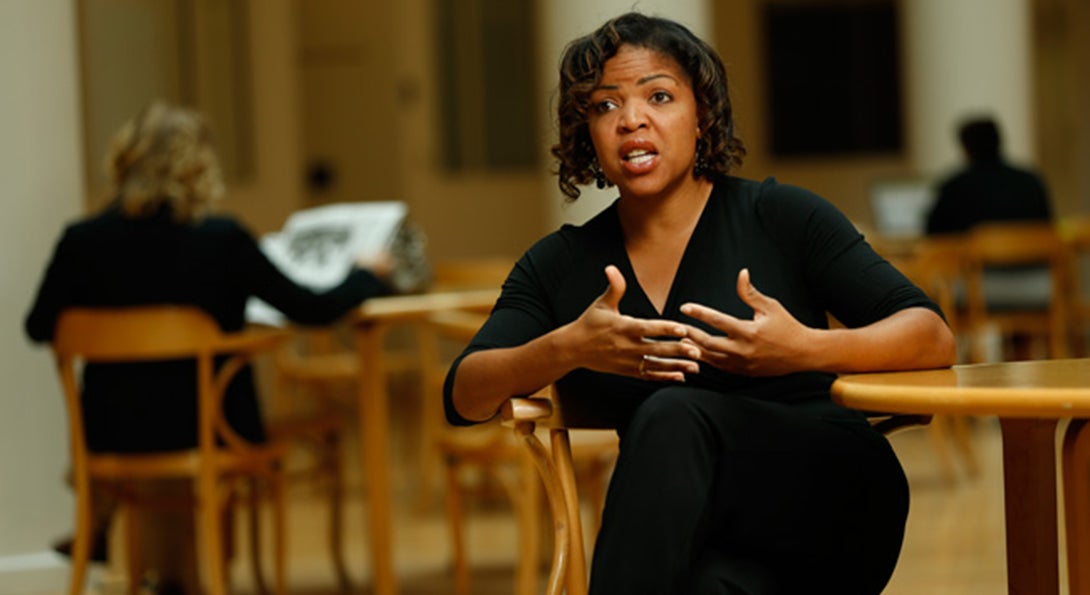 Ebony McGee was drawn to STEM fields like math and science from a young age.
As a high schooler in Chicago, she earned a scholarship to begin studying engineering at Illinois Institute of Technology.  She earned degrees in electrical engineering from North Carolina Agricultural and Technical State University and a master's degree in industrial engineering from the New Jersey Institute of Technology.  Her professional career took her from a position at General Electric to NASA's jet propulsion labs to Ford Motor company to a position as a product intelligence manager at Hewlett Packard.
There was just one problem.
"I endured a slew of what I now know were racial micro-aggressions happening at my job," McGee said.  "My colleagues would put some engineering problems on my desk and call it a joke or say, 'Because you went to an HBCU you probably don't know,' implying I didn't know as much as someone who went to a traditional White institution.  They treated me with baby gloves, and it made me really disillusioned."
Already discontent with the lack of tangible social impact her work was producing, she decided to reinvent herself.  With only a few months of substitute teaching experience, McGee left the private sector for good and joined the UIC College of Education's PhD Curriculum and Instruction program, determined to study the resilience of high achieving African American men and women who rose to ranks of influence in science, technology, engineering and math (STEM) fields.
Her dissertation focused on 23 high-achieving African American junior and senior college students majoring in math or engineering fields, representing Midwest, Ivy League, traditional white, historically Black and Black commuter campus institutions of higher education.  She found these students engaged in stereotype management that created burdens and anxiety but also pushed them to achieve at a higher level than had the stereotype not been initiated.  That may sound like a huge positive, but the gain comes at the cost of expended energy, anxiety and even physical effects of mitigating lowered expectations.  McGee argues not every person is equipped with the intellectual ability to fight stereotypes repetitively.
"Stereotypes are omnipotent, they are constant and they are subtle, they are overt and everything in between," McGee said. "These results are counter to what we are hearing in the narrative that stereotypes are not deterministic of a person's capabilities; these are coping mechanisms that students employ to temporarily defy the stereotype."
Today, McGee, PhD Curriculum and Instruction '09, is an assistant professor of education, diversity and urban schooling at Vanderbilt University's Peabody College.  Her latest research focuses on the role of racialized experiences and biases in STEM educational and career attainment, problematizing traditional notions of academic achievement and what it means to be successful in STEM yet also marginalized for high-achieving Asian, Black and Latina/o students in STEM fields.  Two studies, funded by the National Science Foundation, are examining why pathways for Black PhDs to join the engineering faculty nationwide have stalled and possible differences in how successful Black students in science and math navigate and manage stereotype threats.
When examining the underrepresentation of Latina/o and Blacks in the STEM fields, McGee argues the problem lies not with Latina/o and Black learners but with the STEM field itself.  Nationally, only 16 percent of Latina/os and 14 percent of Black college students in STEM fields emerge with a job in a STEM industry.
She disagrees with how curriculum is presented in very abstract forms for the first few years of higher education before tangible applications begin and says national politicians' emphasis on STEM for competitiveness does not resonate with Black and Latina/o students.  For one Black female student in McGee's research studies, pursuing a career as a chemist to create skin care products for African Americans with dark shades of skin has little to do with competing with China, India and other growing economic powers.
"You have Black and Brown students who don't want to build bombs, they want to build communities," McGee said.  "These are students who want to eliminate racial disparity or eliminate poverty or practice environmental engineering, but STEM is not positioned to be attractive to those folks."
Modified on September 29, 2017