2015-16 Community Engagement Projects
Each year, the College of Education provides grant funding for community engagement projects created by students, alumni, faculty and staff, strengthening communities locally, nationally and globally. Featured below are currently-funded projects for the 2015-16 academic year.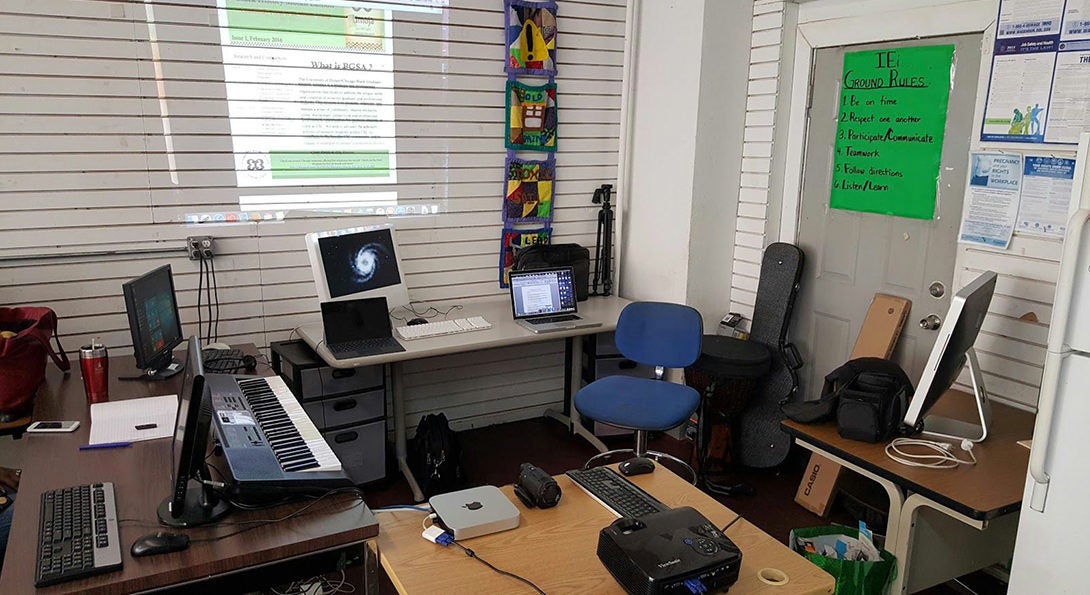 Elisha Hall, PhD Policy Studies in Urban Education student; Shawndra Allen, PhD Literacy, Language and Culture student
In collaboration with: Imagine Englewood IF and Barbara A. Sizemore Academy
Hall and Allen launched a new digital media program, aimed at engaging Englewood youth in exploratory dialogues about community improvement, civic engagement and storytelling.  The grant funded purchase of four HD video cameras, two computers, a digital keyboard and several accessories.  The new digital media center equips young people to document civic engagement and community development in Englewood.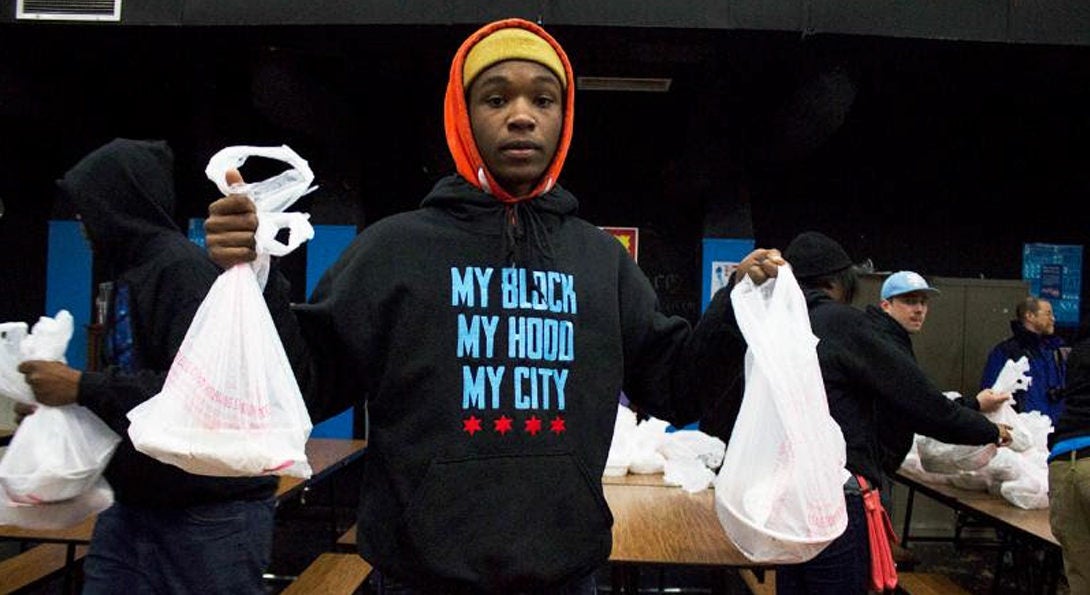 Alejandra Cantero, MEd Educational Studies '13 and department assistant to the Departments of Educational Psychology and Special Education
In collaboration with: My Block, My Hood, My City
Funding was used to provide Chicago teens with immersive experiences in the city outside of their own neighborhoods.  Teens visited an artist opening a gallery at the Union League Club of Chicago, served meals to the homeless in Uptown, checked out new institutions in Englewood including I Grow Chicago, the Chicago Parks Advisory Council Conference, Kusanya Cafe and Imagine Englewood If and toured the Art Institute of Chicago.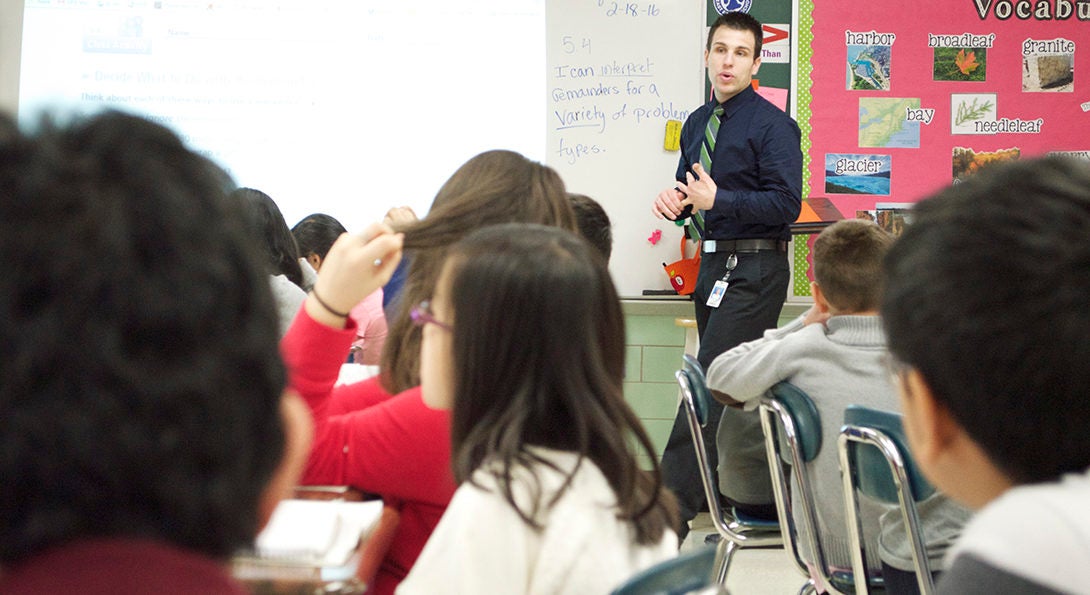 Michael Scaletta, PhD Special Education student
In collaboration with:  East Prairie Elementary School
The Math Masters intervention program was created around a shared vision of engaging students and their families through interactive math instruction that utilized technology, hands on learning and shared learning experiences for students and their parents. Funds were used to purchase tablets and applications for tablets which will be retained by East Prairie School in order to promote the continued implementation of the Math Masters intervention program for years to come. Additionally, resources for families to use at home were purchased and activities were demonstrated during the weekly structured shared learning experiences.
Empowering Latino Families of Young Children through the Use of Computer Technology to Improve Educational Outcomes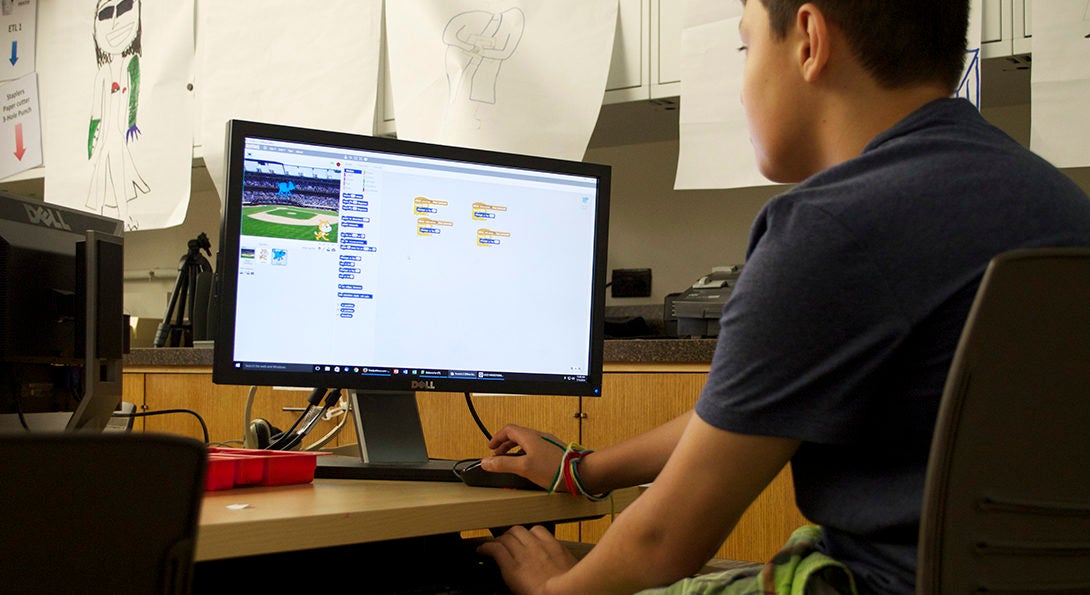 Ernesto Reyna, director of the Educational Technology Lab
In collaboration with:  Two Rivers Early Head Start Agency, Carpentersville
The primary goal of the ETL Outreach Project was to teach parents with little to no previous experience how to use computer technology and Internet resources to enhance their daily lives and to enrich their young children's education. Sessions were planned for hands-on instruction and practice specifically in the following areas: 1) Introduction to use of computers and computer terminology, instruction on how to locate and make use of free Wi-Fi access, and how to use of Internet; 2) Use of email, Cloud storage and social media; 3) Online access to English as Second Language resources for the parents; 4) Online access to children's literacy sites and apps for learning/enrichment; and 5) Where and how to access computers at local library. The intent of these sessions was to teach parents about available technology and its use so that they can teach and provide their children with tools for becoming successful in the digitized world.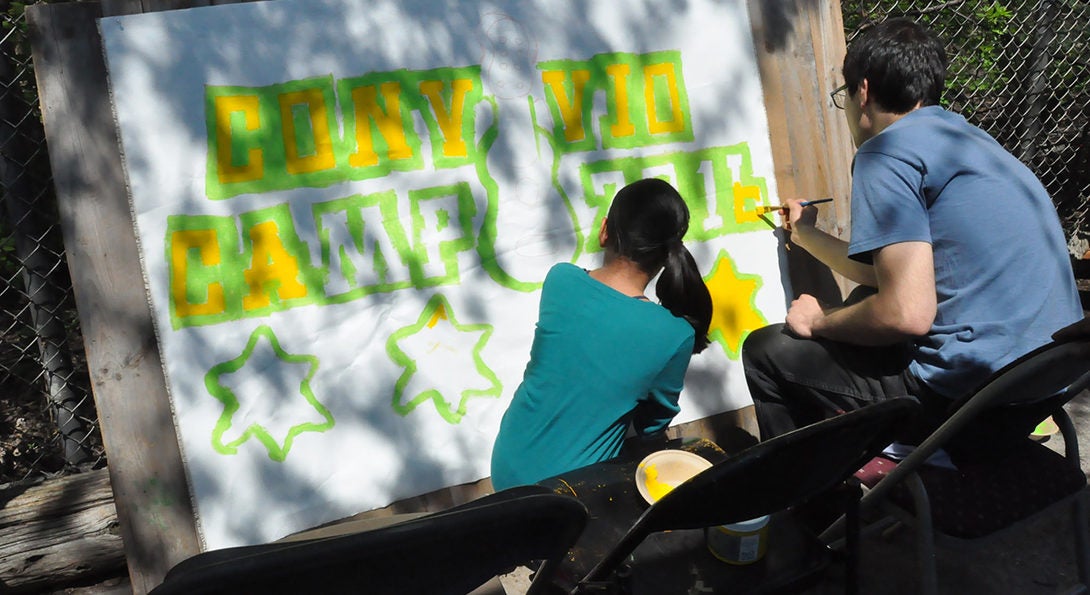 Jaclyn Rodriguez Vega, MEd Youth Development student
In collaboration with:  Jarochicanos Music Collective, Pilsen
Jarochicanos, a music collective located in Pilsen since 2008 has practiced and used the 300 year old Afro Mexican tradition of southern Veracruz, called son jarocho or música de cuerdas played on the stringed jarana instruments, to build community and affirm a sense of identity within the Mexicano/Latino community in Chicago. They are recipients of the UIC College of Education Dean ' s Office Collaborative Community Grant and developed the Jarana All Stars early adolescent son jarocho music program for children ages 7 – 12 years old and their parents. Jarana All Stars bi – monthly workshops in the Pilsen community teach both how to play, dance and sing jarana music, as well as learn traditional practices as a way to be engaged with community members. Children and their families were exposed to these concepts through an alternative spring break initiative, Convivio Camp, loosely translated as "togetherness" camp. The grant helped support the participation of Gemaly Padua Uscanga, an artist i n resident from Veracruz, Mexico, who shared conversations with the children and their families to guide experiences and understand how this musical tradition builds community and a collective process for re-imagining communities, using traditional knowledge as assets to transform our community.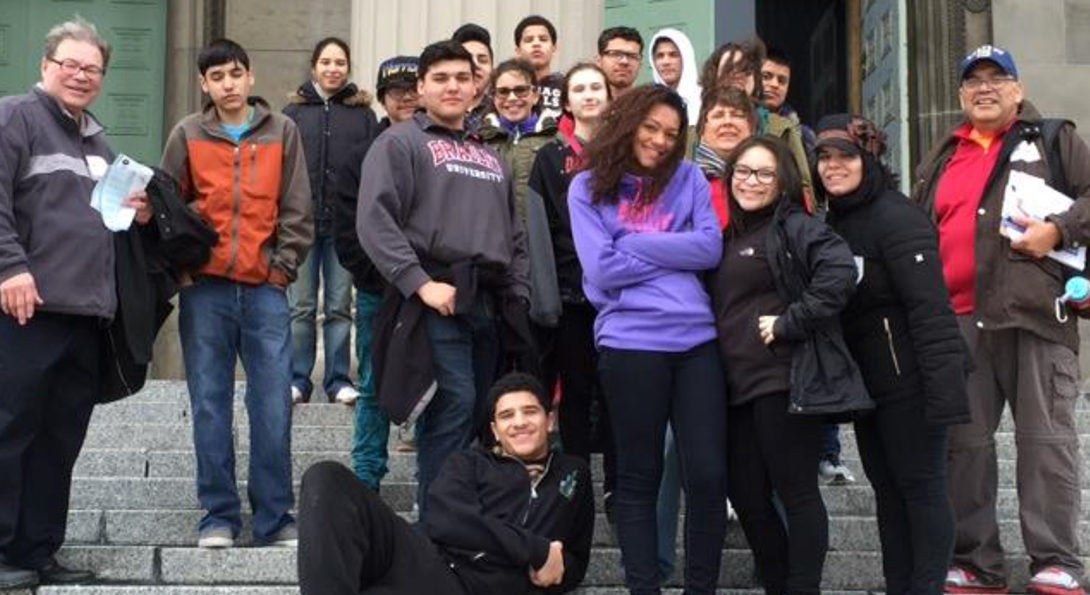 Carol Fendt, PhD, co-director of the PRAIRIE Group and Ernesto Reyna, director of the Educational Technology Lab
In collaboration with:  St. Aloysius Church
This project trained twenty new mentors with the St. Aloysius youth Group to provide educational enrichment opportunities. Following the training, mentors and youth are learning together about robotics, health and diet, physical fitness, STEM , the art of storytelling, peace activism, and cooking.  Mentor training included computer studies,peace studies and an inter-religious learning opportunity, robotics experiences at the Educational Technology Lab, cooking classes and lessons in personal finance.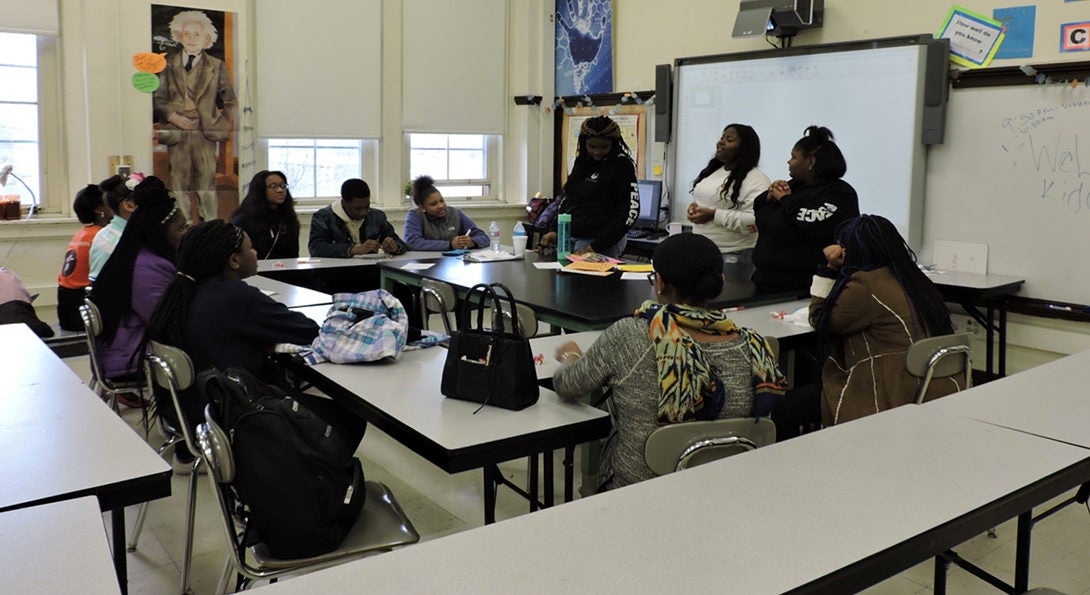 Kristen McShane, PhD Special Education student
In collaboration with:  North Lawndale College Prep
The project conducted trainings on non-violent conflict resolution with 160 grammar students across four schools.  Trainings were almost entirely student-organized, with students sharing personal experiences of violence and how they dealt with the resulting trauma, as well as figures in their lives they look to to model non-violence.  The program was successful in growing the leadership skills of NLCP's Peace Warriors and in providing a new group of young people with tools for resolving conflicts.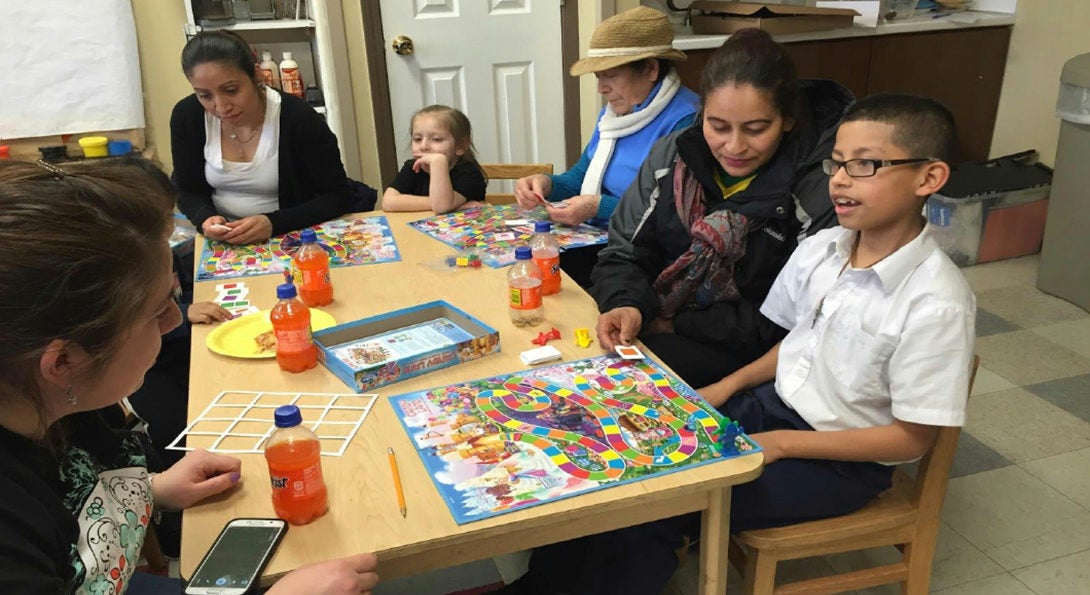 Giselle Nuñez, Wendy Gonzales and María Soria, PhD Special Education students; Marie Tejero Hughes, PhD, professor of special education
In collaboration with:  Guadalupano Family Center, Pilsen
The Language in Action program was created by the team to support Latino families in the Pilsen area to learn more about language and literacy development. The program was offered in Spanish and aimed to create a space for parents and young children to engage in meaningful activities that they could continue at home. Families were encouraged to talk and interact with their children using a variety of language skills, such as following multi-step directions, creating rules during specific activities, following directions, or describing events using a variety of vocabulary words. Families learned new ways to engage with everyday materials they could find in their home.
Under their Lens: Exploring the Hopes and Obstacles of Youth with Disabilities in Urban Communities Through Photojournalism
Laura Cota and Dana Smith, MEd Special Education students; Norma Lopez-Reyna, PhD, associate professor of special education
In collaboration with: ENLACE, an organization that convenes, organizes, and builds the capacity of Little Village stakeholders to confront systemic inequities and barriers to economic and social access.
This project explored the opinions and concerns of families with regard to post high school transition outcomes for their youth with disabilities through Photovoice, a community -based research method used to help individuals who lack resources and decision-making power to address a variety of challenges present in their community and to affect service systems responding to those challenges. Equipped with a camera, participants documented the everyday realities of their student and themselves relevant to transition into adulthood, and then gathered as a group to discuss findings and plan action steps moving forward.