2017-18 Community Engagement Projects
Each year, the College of Education provides grant funding for community engagement projects created by students, alumni, faculty and staff, strengthening communities locally, nationally and globally. Featured below are projects from the 2017-18 academic year.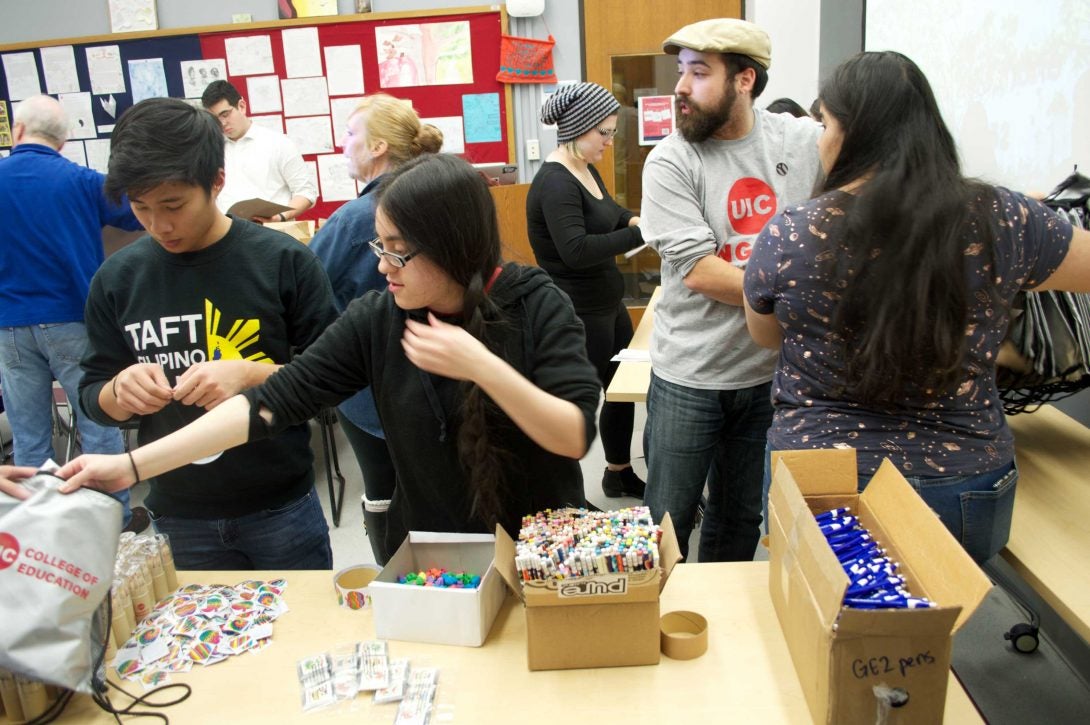 Kim Lawless, PhD, associate dean for research; Maria Torres, BA Urban Education – Elementary Education student; Melvin Woolfolk, BA Human Development and Learning student; Miguel Alvelo-Rivera, PhD Curriculum Studies student; Alejandra Cantero, MEd Educational Studies '13 and department assistant for the Departments of Educational Psychology and Special Education; Adrienne Gilg, department assistant for the Departments of Educational Psychology and Special Education; Ed Briscoe, director of advancement; Dana Baumgartner, facilities and administration
In collaboration with:   Chicago and Puerto Rico communities
The COE Puerto Rican Relief Effort is being proposed as a two-stage project. While we know that current needs in Puerto Rico emanate around basic essentials for life (e.g., food, water, fuel), once the immediate crisis is managed there are also longer-term needs that will require addressing. This includes schools, and children's educational needs. As such, in stage one of this project, COE students (both undergraduate and graduate), faculty, staff and friends will host a backpack drive.  Money from the community engagement grant as well as other donations we receive (cash and materials) will be used to procure back backs for children. These backpacks will be stuffed with papers, markers, books and other basic educational materials. A "stuffing event" will be held in later October or Early November to prepare the backpacks for shipping. This event will be open to any and all participants that want to help out and will be widely publicized through out the College of Education. We will partner with our community-based collaborators in Chicago and Puerto Rico to ship and distribute the backpacks to students.
For stage two of the project, we intend to send a subset of our group as a Solidarity Brigade to Puerto Rico in the Spring of 2018. This team will work with local organizations to help clean and rebuild schools/youth community centers in an effort to restore their operability. In addition to the direct benefit to this Solidarity Brigade can provide to the people of Puerto Rico, there is also a major secondary benefit for the UIC students who participate. The opportunity to learn about the local culture, educational systems and support organization for youthTo subsidize the funding for those needing funds for the travel to Puerto Rico, we will engage in a fund raising campaign with the goal of raising $20,000. This fundraising campaign will be a combination of online crowd funding and direct solicitation of individuals at fundraising events (e.g., bake sale). We are currently reaching out to organizations in Puerto Rico that can aid in identifying work sites (Puerto Rican Teachers Federation), as well as facilitate housing for the team (University of Puerto Rico). We believe that between the fund raising and collaborative partners in Puerto Rico, we will be able to send a team of 10 individuals on this mission trip.
Sunyoung Kim, PhD, assistant professor of special education and Jing Wang, PhD Special Education student
In collaboration with:  Chicago Milal ("Grain" in Korean) Mission and Welfare Center
In this project, UIC will partner with the Chicago Milal ('Grain' in Korean) Mission and Welfare Center (CMMWC) and work collaboratively to assist Korean American immigrants with severe disabilities to participate successfully in community based social programs. Knowing that 'supported volunteerism' is highly related with active and meaningful community engagement for individuals with disabilities (Choma & Ochocka, 2005), UIC partners will provide effective training programs for community volunteers at CMMWC. Additionally, UIC partner will provide Augmentative and Alternative Communication (AAC) device interventions to non-verbal youth with severe disabilities to help them communicate and participate actively in regular based community services, as they do such with the devices at their schools.
A UIC School District Partnership: Bridging the Gap between Posen‐Robbins School District and Parent Engagement
Christerralyn Brown, PhD Special Education student and Daniel Maggin, PhD, associate professor of special education
In collaboration with:  Posen‐Robbins School District (Neighborhoods: Posen, Robbins, Blue Island, and Harvey) and community organizations
This initiative focuses on fostering improved parent-school relationships through collaborative development and implementation of three Family Fun Festivals. These Family Fun Festivals will provide an opportunity for school district personnel to engage with parents, educate them about the importance of on-time school arrival and attendance, and facilitate engagement with available, though underutilized, community resources. Parents will have the opportunity to learn about volunteering and offer opportunities for parents to visit their child's school and discuss ways to recruit and train them to work in the school or classroom. Most importantly, these family fun festivals will focus on building relationships within the community.
Fostering Parent Engagement & Home‐School Collaboration in an Englewood Montessori Chicago Public Charter Elementary School
Sarai Coba-Rodriguez, PhD, assistant professor of educational psychology and Jasmine Jones, PhD Educational Psychology student
In collaboration with:  Montesorri School of Englewood
The purpose of this collaborative community engagement project is to foster parent engagement at the Montessori School of Englewood (MSE). MSE is a Chicago Public Charter Elementary School that opened its doors in 2012 and is one of the first public schools in Chicago to offer a free Montessori education in Englewood. It also continues to be the only Montessori Head Start Program in Chicago. Researchers consistently report that high levels of parental engagement, broadly defined to include home- and school-based activities, in children's education, is beneficial to children' social and educational development, both at school entry and during later years. While the topic of parental engagement and its impact on academic achievement has been well documented in the literature, researchers continue to report low levels of parental engagement for low-income, African American families. Economic, social, and cultural barriers hinder African-American families' full support of children's school experience. Understanding the specific barriers and resources of parents could help schools, practitioners, and policy makers create home-school collaborations with families from various socio-cultural backgrounds. Thus, this project is two-fold: 1) conduct exploratory qualitative interviews and administer surveys with MSE families to better understand their beliefs, practices, barriers, and resources used related to parental engagement and; 2) use the findings to develop culturally appropriate workshops for parents and teachers that promote shared understandings and expectations around parental engagement.
Geraldo Tobon, PhD Special Education student; Jannette Moya, MEd Youth Development '14; Marie Tejero Hughes,PhD, professor of special education
In collaboration with:  Belmont‐Cragin Elementary
This collaborative community engagement project, Multiplicando el Potencial de la Familia (Multiplying the Potential of the Family), will take place in the Belmont-Cragin neighborhood, located on the northwest side of the city. Belmont-Cragin Elementary is a small K-8 school with a student population of less than 500 and is typically described by visitors as a hidden gem. Multiplicando el Potencial de la Familia will be a parent academy. with a focus on increasing parent confidence with Common Core math.  There will be six 90 minute sessions conducted in Spanish and English offered at Belmont-Cragin Elementary.  The parents and their children will engage in joint mathematical activities during each session. The projectpersonnel will guide and discuss how these activities support their children's mathematical development. Families will then be able to take the materials home and continue to engage their children with them. During each session, families will also have an opportunity to discuss as a group different issues related to mathematics, schooling, and special education.
Grant Awardees:  Rachel Gruen and Amanda Diaz, PhD Literacy, Language and Culture students; Megan Edgin, PhD Educational Psychology student; William H. Teale, EdD, professor of curriculum and instruction and director of the UIC Center for Literacy; Lucy D'Erandi, Megan Wells, Martin Rabotti, Chivon Multrie and Gwen Holmes, UIC Center for Literacy

In collaboration with:  south, southwest, and west sides of Chicago
"Our City, Our Museum" is designed around an upcoming project based learning (PBL) social studies unit that will be implemented in three adult education sites across Chicago. The unit will have adult learners research the characteristics that define their communities, explore what it means to survive and thrive in the changing communities in which they live, and design and create a museum that represents the community. This unit will push students to engage with their community to evaluate the voices represented in the community's history.
Grant Awardees:  Edward Podsiadlik, PhD, clinical assistant professor of curriculum and instruction; Jacqueline Medina, EdD Urban Education Leadership alumna; Miriam Perez, TITLE; Coraima Delgado, BA Urban Education – Elementary Education alumna; Alejandra Olaez and Arelis Armas, BA Urban Education – Elementary Education students
In collaboration with:  Gage Park community and its surroundings
This grant aims to create spaces where parents and community members, university teacher educators, teachers and student teachers, as well as building administrators can speak freely and critically about curriculum issues that directly impact their lives as well as the surrounding Gage Park community. The grant will focus on math education and the related role of technology. Three workshops for participating parents and community members will be facilitated by teachers and student teachers in December, February, and April culminating in a Parent led EXPO held on Parent Report Card Night in mid-April. In the Parent EXPO, parents will share with other parents highlighted activities and resources from the workshops. The goal is to share awareness of activities and resources that can be used at home to best support children's daily mathematical understanding and reasoning. The long term goal for this initiative is to nurture and providing opportunities for participating parents/community members to become facilitators for related professional development for individuals from neighboring elementary schools in the Gage Park community.
Grant Awardee:  Ruby Camacho, associate director, Center for Literacy; Dawn Jackson, Marta Salas and Jeneen Thomas, UIC Center for Literacy; Center for Literacy AmeriCorps members
In collaboration with:  Children's Home + Aid's Metropolitan Chicago
UIC Center for Literacy staff and AmeriCorps members will coordinate an event in collaboration with Children's Home + Aid's Metropolitan Chicago foster home. The focus will be on fostering a positive self-esteem that will encourage and motivate aging-out foster youth to pursue their education & goals. At  least 30 foster youth (ages 14-17) will participate in a motivational self-esteem workshop led by qualified UIC staff with a social work/early childhood background and supported by AmeriCorps members.
The workshop would be followed by an activity where youth engage in an art project where they paint portraits of what self-esteem means to them as well as their goals (portrait & small narrative). These canvas portraits would then be used to decorate an area of the foster home as well as an area of the UIC College of Education.
Youth would also receive information about relevant services available to them and provided by UIC College of Education & the Center for Literacy such as our: GED services, ESL classes, family & financial literacy workshops & volunteerism. The event would culminate with discussion/reflection on the activity & with care packages/baskets provided to the youth with the funds provided by the grant.
Grant Awardees:  Samantha Walte and Gina Braun, PhD Special Education students
In collaboration with:  Pulaski Elementary School and Brown Elementary School
Students with significant disabilities such as moderate to severe intellectual disabilities, autism, and multiple disabilities are often referred to as students with "low-incidence" (LI) disabilities because their disabilities are rare and their needs are unique. Because students with LI disabilities comprise only an average of 1% of the population, their schools and teachers can feel ill-equipped to fully address each student's individual needs. There is often only one or two teachers of students with LI disabilities in each building and this can leave those teachers feeling somewhat alone, without anyone with whom to share ideas, trade resources, or ask for advice. Research has shown that increasing teacher self-efficacy increases the quality of educational services for students with LI disabilities as well the level of inclusiveness of their educational programming. The Low-Incidence NetworK, or Project LINK, addresses this by providing teachers of students with LI disabilities in Chicago Public Schools' Network 6 with two targeted forms of support: real-time classroom assistance from former LI teachers and the creation of a connected community of LI teachers.