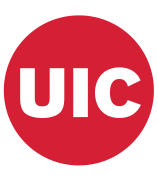 Claríbel Gomez
Undergraduate Academic Advisor
Office of Student Services
Contact
Address:
1040 W. Harrison St.
Office Phone:
Email:
About
Claríbel (Clarí) Gomez is an undergraduate academic advisor in the College of Education. For those who are not native Spanish speakers and cannot "roll your 'r'" Clarí sounds just like CLADI :)
Born and raised in a strict Mexican household on the Southside of Chicago, Clarí is a graduate of CPS and attended UIC for her BA in Psychology. She went on to earn two Master's degrees at RMU in Higher Education and Business, respectively.
Prior to UIC, Clarí has worked in various roles in Education for the last decade and was a volunteer ESL teacher in Cicero, IL.
Clarí's passions include her dog, Roger, and long talks on dismantling systemic oppression.