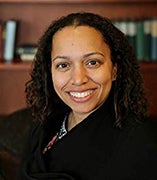 Lynnette Mawhinney, PhD
Associate Professor of Curriculum and Instruction
Curriculum and Instruction
Contact
Building & Room:
3238 ETMSW
Address:
1040 W. Harrison St.
Office Phone:
Email:
Related Sites:
About
Dr. Lynnette Mawhinney is chair and associate professor in the department of Curriculum and Instruction. As a seasoned educator, she is proud to have taught within many diverse populations from the American Indian reservations of South Dakota to urban Philadelphia. She has taught in a range of urban educational contexts, including middle school, high school, undergraduate, graduate, and GED and employment training programs for TANF (formerly known as Welfare) recipients and dislocated workers. For the last ten years, she has conducted teacher training in the U.S., Vietnam, Taiwan, Thailand, South Africa, and Egypt. Dr. Mawhinney's research focuses on the professional lives of urban teachers and pre-service teachers (with a specific focus on teachers of color), the schooling experiences of urban youth, and autoethnographic approaches in educational settings
Selected Publications
BOOKS
Mawhinney, L. & Rinke, C. (2019). There has to be a better way: Lessons from former urban teachers. New Brunswick, NJ: Rutgers University Press.
Petchauer, E. & Mawhinney, L. (Eds). (2017). Teacher education across Minority Serving Institutions: Programs, policies, and social justice. New Brunswick, NJ: Rutgers University Press.
Winner of the Exemplary Research in Teaching and Teacher Education Award from AERA, Division K (Teaching and Teacher Education)
Mawhinney, L. (2014). We got next: Urban education and the next generation of Black teachers. New York: Peter Lang.
Reviewed in (2015). Journal of Urban Learning, Teaching, and Research, 11, 118-119.
BOOK SERIES
Rinke, C. & Mawhinney, L. (Eds). Contemporary Perspectives on the Lives of Teachers: Opportunities and Challenges. Charlotte, NC: Information Age Press.
PEER-REVIEWED ARTICLES (abbreviated list)
Mawhinney, L. & Rinke, C. (2018). The balance and imbalance of sampling former teachers hidden-by-choice: A snowball in summer. International Journal of Research & Method in Education. https://doi.org/10.1080/1743727X.2018.1513480
Mawhinney, L. & Rinke, C. (2018). I just feel so guilty: The role of emotions in former urban teachers' career paths. Urban Education. 53(9), 1079-1101.
Dell'Angelo, T. & Mawhinney, L. (2017). A call to arms for a paradigm shift in urban education: A movement. The Educational Forum, 81(4), 357-359.
Rinke, C. & Mawhinney, L. (2017). Insights from teacher leavers: Push and pull in career development. Teaching Education. 28(4). 360-378.
Park, G., Rinke, C., & Mawhinney, L. (2016). Exploring the interplay of cultural capital, habitus, and field in the life histories of two West African teacher candidates. Teacher Development, 20(5), 1-19.
Mawhinney, L., Irby, D.J., & Roberts, E. (2016). Passed along: Black women reflect on the long-term effects of social promotion and retention in schools. International Journal of Educational Reform.25(2), 154-169.
*For a detailed list and access to all Dr. Mawhinney's articles, please visit her website at: lynnettemawhinney.com
Notable Honors
2018, Exemplary Research in Teaching and Teacher Education Award, American Educational Research Association's (AERA), Division K: Teaching and Teacher Education
2018, Bronze Award for The Scholarly/Technical/Scientific Journal, Association Trend
2013-2014, Fulbright Core Scholar (University of Bahrain/Bahrain Teachers College), Fulbright Scholar Program
Education
2007 - Ph.D. in Urban Education, Temple University (Philadelphia, PA)
2003 - M.Ed. in Urban Education, Temple University (Philadelphia, PA)
2000 - B.S. in Secondary Education English and Communications, Penn State University (University Park, PA)
Minor, Movement Science (Coaching Emphasis)