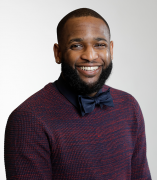 Wendall Lytle
Senior Academic Advisor
Office for Student Success
Pronouns: He/Him/His
Contact
Building & Room:
3145A ETSMW
Office Phone:
Email:
About
Wendall Lytle is the Urban Education undergraduate advisor. Wendall is from Springfield, Illinois but moved to Chicago May 2018 to work at UIC. He attended Illinois State University for undergraduate degree in Sociology before attending Northern Illinois University for his Master's degree in Counseling Adult and Higher Education.
A few fun facts about Wendall:
Favorite Restaurants near UIC – Del Toro Tacos, Carms, Yammi Thai
Favorite Hobbies – Intramural Sports, Socializing, Reading, Vacationing, and Cooking!
Favorite Quote – "Don't get so hung up on where you want to be that you forget to make the most of where you are"
Message to my students – I look forward to meeting with you so never hesitate to email or schedule an appointment!