Math Tutoring Leads to Student Service Award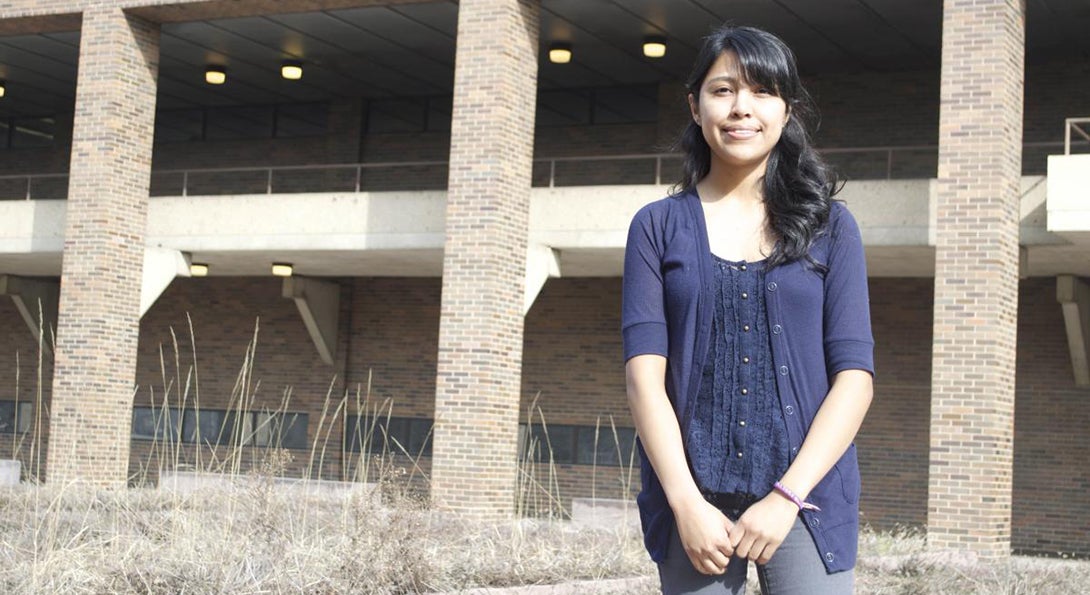 Evelyn Gachuz never thought math was in her future as a female Hispanic student.  Now, as a math tutor she is ensuring other girls don't feel the same way.
"I had teachers who said math was hard, teachers who made comments about how they didn't like math when they were growing up, so that made me think, 'Oh, maybe it's not for girls,'" Gachuz said. "I was in a senior calculus class as the only girl and the only Hispanic, and that kind of showed me that not many girls would want to pursue a career in math."
Today, preparing for a career as a teacher, Gachuz is ensuring young girls in Chicago are exposed to math in a much more positive manner.  The BA Urban Education-Elementary Education freshman's volunteer work tutoring girls with two Chicago community organizations earned her the UIC Chancellor's Student Service Award.
For her fieldwork through the BA Urban Education program, Gachuz works in a classroom at Casa Juan Diego youth center in Pilsen, assisting girls with their homework and fostering the girls' Hispanic heritage and native language skills through activities such as decorating the youth center with murals.
"For me, the Spanish language is an important part of my heritage, and I see it as an important part of my identity," Gachuz said. "I think it will help them with life, with getting a job, and I think it will help them to pass down language and heritage to their children to keep our traditions."
Before her work at Casa Juan Diego, Gachuz said she did not realize the difficulties Latino families face in keeping native language skills alive, especially when their children are enrolled in transitional language programs that push for English-only instruction.  She says her work with the girls at Casa has showed her that programs that seek to maintain cultural language and leverage language as an asset can be a significant advantage for Latina/o learners.
In Greektown, Gachuz volunteers at the Metro Achievement Center, providing one-on-one tutoring with Latina girls who come from low-income environments.  Gachuz says the tutoring expands beyond educational assistance; she sees herself as a role model, showing her charges values key to success and encouragement in their studies.
From her community service, Gachuz says she is zeroing in on where she hopes to land in her teaching career.  She says she wants to work with 4th and 5th grade students, enjoying their high levels of imagination and creativity.  After her negative experiences with math as a student, Gachuz wants to teach math to communicate to girls that math is an option for them, despite how society may discourage their access to the subject.
"I've really learned the importance of community; it's something I took for granted before," Gachuz said. "At Casa, their emphasis on community and our shared culture made it important for me that I keep my culture alive as a teacher as well."
Modified on October 06, 2017