Preschool Literacy Skills for Low-Income Students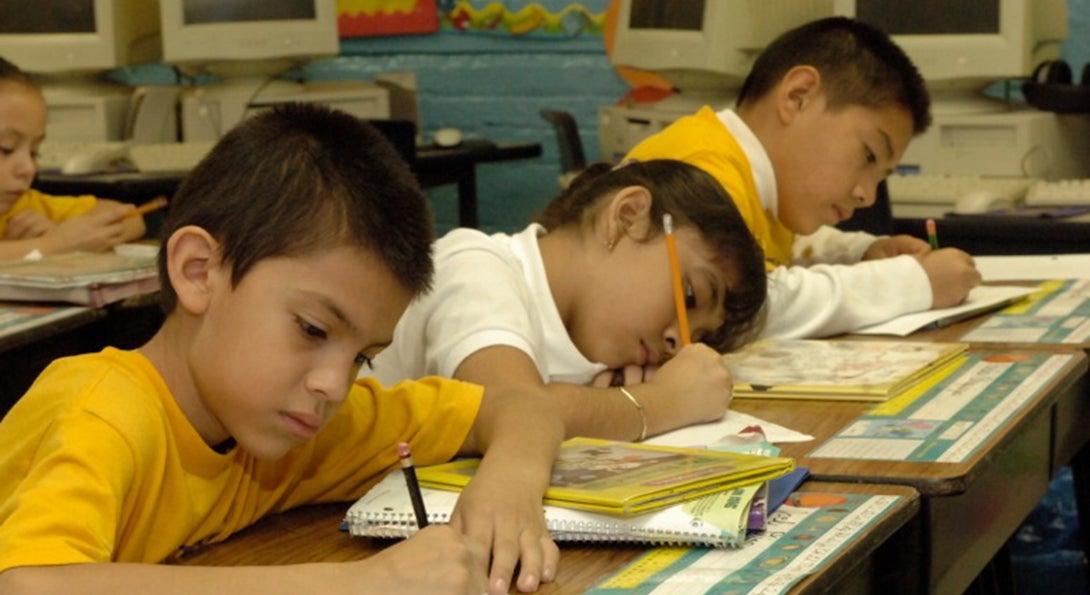 Before a child ever steps foot in a classroom, risk factors accumulate that can limit their proficiency in mastering early childhood literacy.  The educational levels of parents, job situations and household income raise immediate red flags for educators in literacy learning.
At Todd Early Childhood Center in Aurora, Ill., Elia Olivares, MEd Literacy, Language and Culture student, saw preschoolers facing the big literacy risks:  low socio-economic status, children with a single parent who worked full-time to support their family, parents new to the United States.  Using funding from a Dean's Community Engagement grant, Olivares built a series of workshops for parents to better their own skills promoting literacy in the home.
"They understand that they should read to their kids, they just don't know how they're supposed to read," Olivares said. "What if my child does this, what if my child responds this way, what if my child has special needs?"
Olivares facilitated two five-week cohorts conducted in Spanish, with teachers recommending parents whose children were identified as at-risk for not thriving in literacy.  Meeting twice per week, Olivares worked with parents on engaging in interactive reading practices and incorporating those practices in the home.  Each session featured one book for parents to practice with at the session under the observation of Olivares and two teacher assistants and a second book to bring home for reading and modeling with their children.
The first week highlighted repetition and the basic elements of reading: title, author, book orientation and rhyming.  From there, Olivares led discussions on connections between vocabulary, language development and critical thinking skills and the importance of reading as a family.  Parents worked on asking questions of their children that might capture interest in a particular book.
In week two, Olivares and parents discussed the importance of the foundation of language.  She stressed to Spanish-speaking parents no matter their level of proficiency in English, their language skills as a parent serve as a foundation for their children.
"It's important for a child to learn language appropriately and maintain saliency of each language," Olivares said. "Children can learn multiple languages; we just need to facilitate those experiences appropriately."
Parents studied presenting new vocabulary to their children that may be outside the realm of their child's life.  For example, if a child has not been to a museum, a child could still engage in museum-like experiences through a book.  When presenting new vocabulary, parents modeled interactive styles of engaging with children:  following a child's motivation, using pauses, permitting questions and adapting as necessary.
The cohorts then moved on to reading comprehension and its connection to literacy.  Olivares introduced tactics to foster understanding of text:  asking diverse questions, evaluating responses, repeating or revising as necessary and "add a little more."  Week four guided parents through selecting age-appropriate books for children.
The workshops culminated at a local library.  Many of the families did not possess a library card and lacked familiarity with the library catalog system.  Olivares guided parents through accessing a card, checking out books, searching databases and navigating through software.
"These experiences allowed them to really focus in a smaller group and actually practice these techniques," Olivares said. "Your child goes in to school and there's really no parental involvement other than a phone call home saying you need to read more to your child, but these parents need the strategies to implement to help their child to be more successful."
Modified on November 01, 2017