Teacher Uses Literacy to Combat Racial Bias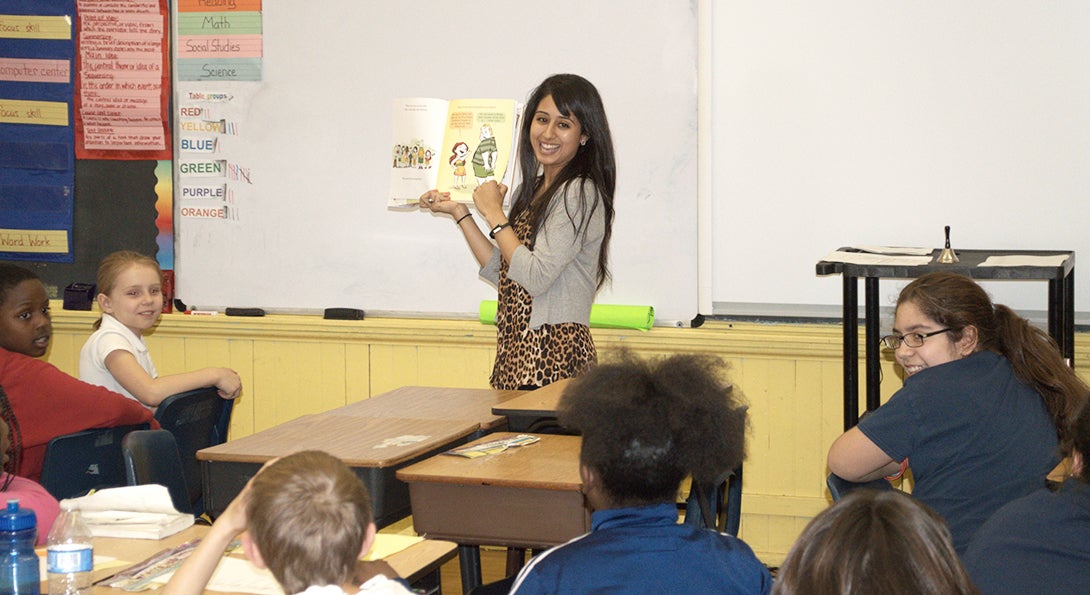 When Yasmeen Elayyan encountered an unexpected problem of racial bias in her student-teaching classroom, she turned to the books.  Children's books.
As a 4th grade senior teacher candidate at CPS McClellan Elementary on Chicago's south side, Elayyan took on the role of the classroom's full-time fourth grade teacher.  She built her own curriculum, taught full days of lessons and worked closely with her mentor teacher to strategize individualized instruction for students in need of additional help.
And when problems arose in the high-ceilinged, brightly painted classroom on the school's third floor, the task of solving the problem was placed in Elayyan's hands, with the close consultation of her mentor.
Elayyan was surprised to find her students, who were almost all Latino, were excluding an African American student.  The solution?  Elayyan devised a new literacy curriculum focusing on segregation and gender equality to generate a class-wide discussion on the pressing issues of equality in 21st century society.  That lesson plan and other innovations in teaching literacy earned Elayyan the Patricia Burnette Rising Star Award from the South Suburban Reading Council.
"I like to think of the main concepts and use backwards mapping to slowly guide them into the lesson, so I start with the main idea and then think of ways to engage," said Elayyan, who graduated in May 2014 with a BA in Urban Education-Elementary Education.  "You have to have them understand why what they are learning is useful—to realize when you need to know it and to know when it is useful."
Her lesson on segregation started out with a discussion of Barack Obama's presidency, intertwining lessons on Dr. Martin Luther King, Jr. and moving toward the idea of gender equality.  On the day we visited her classroom, students were engaged in a read-aloud discussing whether equal pay for equal work for men and women was a worthy goal.  The students rallied around a surprising response:  perhaps women should be paid more for equal work because women feel the brunt of child-rearing work.
That exchange made us wonder whether we would have thought such a thing in fourth grade.
"I like how students are able to collaborate easier during fourth grade," Elayyan said. "They are at that age where they are not so dependent on the teacher but they still need the guidance of the teacher, so I like how I'm able to work with students."
The award for her literacy teaching includes a grant towards a future classroom library, and Elayyan says she is excited to build a library with texts that are relevant to her students' lives.
"It is so rewarding to feel that you have taught [students] a skill," Elayyan said. "When I started to come into classrooms to observe, I felt that same rewarding feeling.  Now as a teacher, it's just amazing how I can portray a skill and they grasp it—it feels amazing."
Modified on September 15, 2017