Trauma in School Focus of New Grant Project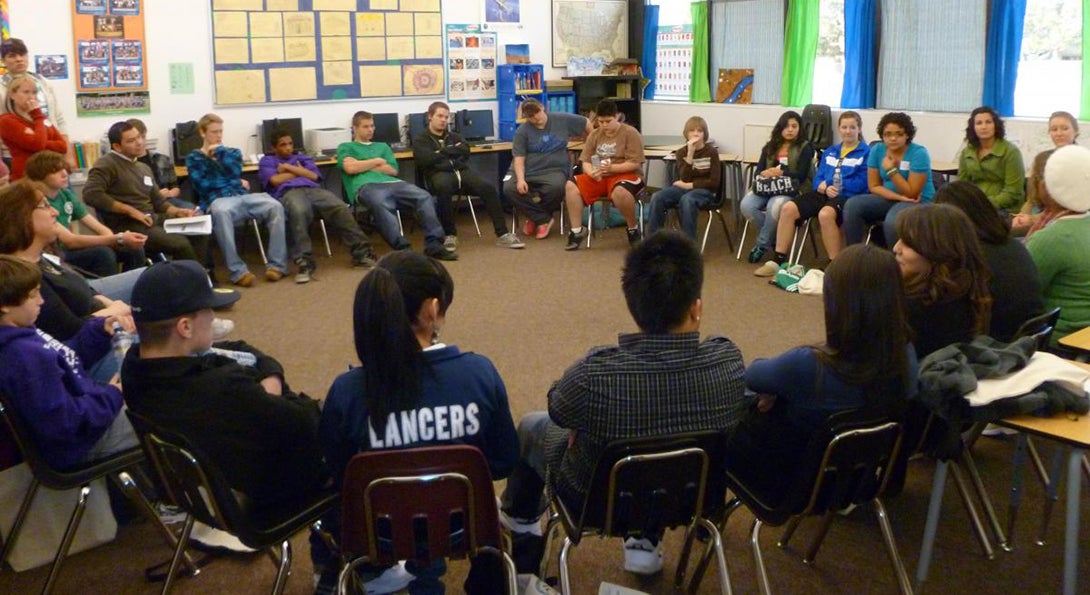 The number of children in poverty in Illinois is growing rapidly.  According to WBEZ and the Daily Herald, 2,244 schools have seen their proportion of low-income students increase by at least 10 percentage points over the last decade, the number of schools with concentrated poverty has ballooned and poverty remains a stubborn predictor of academic success.  The grip of poverty drags toxic stress into classrooms:  even low dose exposure to violence and trauma in personal and community lives affects the attention and emotional stability of students.
A new i3 innovation grant from the U.S. Department of Education, "Calm Classroom K-2," piloted by the Erikson Institute, is not going to end poverty in American cities but is attempting to mitigate the effects of poverty that migrate into the classroom.
Adenia Linker, MEd Youth Development '15, is managing this project in 32 Chicago Public Schools over four years, focused on implementing mindfulness activities to combat the emotional and behavioral effects of poverty.
"We see some of the current materials available lacking in sensitivity to the environment and local context of what is happening in students' lives," Linker said. "The curriculum in the Calm Community is specifically tooled to students' needs in urban settings where we have some of the major stressors we are familiar with impacting classrooms."
The project includes three pillars of intervention:
1. Implementing a curriculum of mindfulness techniques that teachers present three times per day, either during transitions, morning meetings or other authentically appropriate moments;
2. Putting into use "Calm Spots," a proprietary app through which students can self-select to go to a calm spot the classroom, don headphones and watch a two-minute nature video.  The process is known as attention restoration and operates under the theory that spending a few moments observing the quiet of nature is a reset button for the brain;
3. Creating Calm Communities, represented by 20 group activities facilitated by an outside instructor.  These mindfulness activities work through expanding emotional vocabulary, sensitivity to other emotions and personal focus.
The project seeks to not only change local climate in classrooms but also boost academic outcomes if stress factors are successfully reduced.  Linker will work in classrooms as a Calm Community facilitator and serve as the lead liaison with all CPS schools in the implementation study.
"The sooner we can put in place a more positive script for these students to cope, the sooner we'll be able to create stronger emotional dialogues," Linker said. "We need to recognize when we're preparing them for the workforce, they need skills to cope with stressors as adults, to be role models in positive ways."
From a youth development perspective, Linker says most opportunities to develop student voice are focused on children older than the second grade.  Research has not often focused on the applicability of giving students voice to speak openly about their emotions, questions and concerns.
"Being that Chicago is the third largest school district in the nation, and we have as much turmoil as anyone in schools with closings and turnarounds and contract issues, it's going to be very interesting to see in the long run if we can make an impact," Linker said. "It's an exciting and challenging time to be doing this in Chicago, but I think Chicago is ready for it."
Modified on October 11, 2017