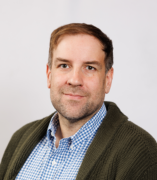 David Banzer
Postdoctoral Fellow
Educational Psychology
Contact
Building & Room:
1204 ETMSW
Address:
1040 W Harrison St, Chicago, IL 60607, USA
Email:
About
David Banzer is a Bridge to Faculty postdoctoral research associate in Educational Psychology within the College of Education at the University of Illinois Chicago. His research focuses on early math, science, and engineering teaching and learning within preschool settings, as well as early childhood teachers' professional development and learning. His direct teaching work within the early childhood education field has focused on community-based organizations. He was a preschool teacher and an early childhood administrator supporting teaching staff within a community-based center supporting young children and families of marginalized Latinx and Black communities, and developed and led early STEM professional learning communities for Head Start teachers.
His work within the field of early childhood education in community-based organizations has informed his research and teaching of university coursework. His experiences teaching and forming partnerships with families has informed how to can blend theory and practical applications in my instruction of students in teacher licensure programs. He has supported teacher licensure candidates in UIC's early childhood alternative licensure program, providing supports and coursework to teacher candidates teaching in community-based organizations within Chicago. As the lead content instructor for UIC's early childhood education alternative licensure program, he developed residency coursework that supported teachers ongoing professional learning.
From these experiences, he has conducted research focusing on early childhood teachers' professional learning and STEM education, with an emphasis on early math instruction. His dissertation research examined early childhood teachers within an alternative early childhood licensure program and their professional learning of early mathematics instruction. Additionally, his research as part of the Early Math Counts research team at UIC has examined online professional development programs and their impact in supporting early childhood teachers through online, asynchronous professional development. This research has been extended to a recent project on early science, Early Science Matters, where he developed a series of online professional development courses on science for early childhood teachers and is currently conducting a study on the effectiveness of this online professional development program.
Education
Ph.D., Educational Psychology, University of Illinois Chicago
M.Ed., Educational Psychology, University of Illinois Chicago
B.S., Psychology, Seattle University