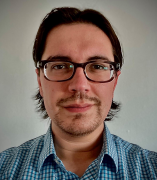 Phillip A. Boda, PhD
Bridge-to-Faculty Fellow
Department of Special Education
Pronouns: He/Him/They
Contact
Building & Room:
3424 ETMSW
Office Phone:
Email:
CV Download:
Please contact me by email.
About
Phillip A. Boda received his Ph.D. from Teachers College, Columbia University in Science Education. His work focuses on justice-centered praxes that leverage Cultural and Disability Studies to center subaltern voices. Often, he uses Educational Technology designed specifically for Urban Education contexts to disobey traditional grammars of what constitutes research in the name of 'social justice.' He has worked at The Learning Partnership as a Post-doctoral researcher, held an appointment at the University of California, Berkeley as a Post-doctoral Researcher in the WISE Research Group, and was also a Post-doctoral Fellow at Stanford University in the Science in the City Research Group.
Dr. Boda's work leverages the affordances of relationship-building with students, their local communities, and teachers to explore questions around the overlapping nexuses of historically marginalized identities (i.e., race, class, gender, disability, and native language). In this way, he draws on Intersectionality, Philosophies of Liberation, and Epistemic Disobedience to challenge sustained colonialities of power in education. His work has explored how researchers analyze student-, teacher-, and school-level data that, when combined with Design-based Research methods, can change the landscape of learning environments by design to respond to those students erased from STEM, Science, and broader educational praxes that sustain marginality. Pluralizing these approaches, Dr. Boda asks: Who decides when justice is met? How do researchers shift beyond comfortable proximities seeded in their epistemic commitments? Why do oppressive colonial logics of subjugation around achievement, affect, and disciplinary hegemonies remain prevalent even among socially just inquiries in education?
Service to Community
Led an internationally disseminated webinar on inclusive science education, and critical research for NARST: A global organization for improving science teaching and learning through research: Imagining more inclusive and just futures in science education research, policy, and practice
"This webinar is the second in the newly initiated Presidential webinar series. The series is based on my NARST Presidential theme: Unity and Inclusion for Global Scientific Literacy: Invite as a community. Unite as a community. For this installment, I [NARST President Renee Schwartz] invited critical scholar Dr. Phillip Boda (University of Illinois at Chicago) to coordinate the webinar and continue our conversation about "inclusion" as pertains to science and science education.
Science education research has problematized who has historically been able to participate in the scientific enterprise, who may recognize themselves as scientists, and who can pursue science degrees. Pushing on work exploring science identity, access to general education curriculum, and legally-mandated accommodations, this Presidential webinar brings together a critical panel to discuss what inclusion could mean from outside the field. This panel will also imagine more inclusive and just futures in science education research, policy, and practice by positioning difference as a site of possibility. Attendees will be exposed to theories and methodologies that can be applied to more justice-oriented research and toward the development of more transdisciplinary collaborations."
Notable Honors
2015, Emerging Leader in Education, Phi Delta Kappa
Professional Memberships
American Education Research Association
Secretary/Treasurer: Disability Studies in Education SIG (2020-2022)
Secretary/Treasurer: The Learning Sciences SIG (2020-2022)
NARST: A global organization for improving science teaching and learning through research
Research Committee Member (2016 – 2019; Chair: 17-19)
Equity and Ethics Committee (Workshop organizer: 2015 – 2018; Member: 2021-2023)
Association for Science Teacher Education (ASTE)
Educational Technology Strand Review Co-Coordinator (2018-2020)
Oversight Committee Member (2017 – 2018)
Science Educators for Equity, Diversity, and Social Justice
Social Action Committee Chair (2018-2019)