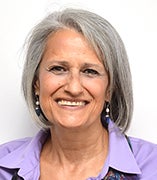 Carole P. Mitchener, PhD
Associate Professor Emerita
Curriculum & Instruction
About
Carole Mitchener is an associate professor emerita of curriculum & instruction. Her scholarly interests include science education, teacher education and action research in urban contexts. Her publications have appeared in national and international journals (e.g. the Journal of Research in Science Teaching and Science Education), in monographs commissioned by the National Research Council on science teacher preparation, and in a professional handbook sponsored by the National Science Teachers Association on research in science teacher education. Her recent grant activity totals more than $2 million and includes three National Science Foundation grants on science teacher preparation, including a Noyce Urban Scholars program for beginning science teachers dedicated to working in the Chicago Public Schools.
Education
1986 - PhD, University of Denver, Curriculum Leadership, Science Education
1981 - MEd, Virginia Polytechnic Institute & State University, Counseling
1979 - MEd, The Ohio State University, Science Education/Environmental Science
1977 - BS, Pennsylvania State University, Earth Science/Secondary Science Education
Research Currently in Progress
My scholarly interests lie at the intersection of science education, teacher education, and urban education. My research has explored the induction of beginning science teachers into urban schools, in particular how to develop a successful teaching practice that meets the needs of students of diverse background and experience. Recently, my work expanded to include the professional development of experienced teachers in urban settings and the use of action research as a career-long learning tool for focusing on the distinctive needs of a diverse student population.