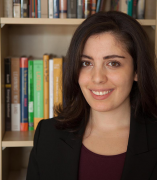 Dalal Katsiaficas, Ph.D.
Associate Professor
Educational Psychology
Pronouns: She/Her/Hers
Contact
Building & Room:
3525 ETMSW
Address:
1040 W. Harrison St. (M/C 147), Chicago, IL 60607
Office Phone:
Email:
About
Dalal Katsiaficas is an Associate Professor of Educational Psychology at the University of Illinois at Chicago. Her current research focuses on the positive social development of immigrant-origin youth as they emerge into adulthood. Specifically her work examines the social responsibilities of immigrant-origin youth as well as the impact of undocumented immigration status on educational experiences. Her research has been published in Child Development, American Psychologist, Qualitative Research in Psychology, Harvard Educational Review, Teachers College Record,  Emerging Adulthood, and Cultural Diversity and Ethnic Minority Psychology.
Selected Publications
Katsiaficas, D., Volpe, V.V., *Raza, S., & *Garcia, Y. (2019). The role of campus support, undocumented identity, and Deferred Action for Childhood Arrivals on civic engagement for Latinx undocumented undergraduates. Child Development, 90 (3), 790-807. doi:10.1111/cdev.12933
Katsiaficas, D. (2018). Infusing the Study of Social Responsibilities with an Intersectional Approach. New Directions in Child and Adolescent Development (161), 39-56.
Katsiaficas, D. (2017). "I know I'm an adult when… I can care for myself and others:" Social Responsibilities and Emerging into Adulthood for Community College Students. Emerging Adulthood. Doi:1177/2167696817698301
Katsiaficas, D., Alcantar, C. M., Hernandez, E., Gutierrez, M.N., Samayoa, E., Texis, O.R., & Williams, Z. (2016). Important theoretical and methodological turning points for understanding contribution with undocumented undergraduates. Qualitative Psychology, 3 (1), 7-25. http://dx.doi.org/10.1037/qup0000043.
Education
Ph.D., Education (Human Development & Psychology), University of California, Los Angeles
B.S., Applied Psychology, New York University
Research Currently in Progress
Katsiaficas' research interests relate to the social development of immigrant-origin youth. Integrating theories and methods from developmental, social and educational psychology, her research broadly explores questions such as: How do immigrant students engage in their schools, families and communities? How do immigrant students forge identities as they navigate the various messages from family, school, peers and society? What role does context play in shaping their engagement and their identities? Taken together, these frameworks inform her program of research on the interplay of two main lines of inquiry: the multiple identities of immigrant-origin youth and their social and academic engagement. Her research agenda is guided by a commitment to socially meaningful issues that face immigrant-origin adolescents and emerging adults.
She employs a dynamic set of methodological and analytic tools to take up these questions. As a mixed-methods researcher, Dr. Katsiaficas utilizes ethnographic observations, semi- structured interviews, large-scale surveys, focus groups, structured classroom observations, and identity mapping to collect data. Her work has incorporated both longitudinal and cross-sectional designs. She relies on various statistical methods (e.g., moderated mediation, meta-analysis, and HLM) alongside innovative qualitative analysis (e.g., identity and family mapping, and pluralistic narrative analysis) in her work.
In her teaching, Dr. Katsiaficas is interested in the role of culture and context in shaping development during adolescence and emerging adulthood. She also examines these processes more deeply for immigrant-origin and undocumented youth.