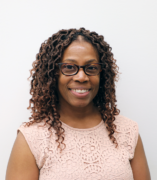 Dionne Danns, Ph.D.
Professor
Program Coordinator PhD Policy Studies in Urban Education: Social Foundations of Education
Educational Policy Studies
Contact
Building & Room:
3212 ETMSW
Address:
1040 W Harrison St, Chicago, IL 60607
Office Phone:
Email:
About
Dionne Danns is a professor and a historian of education in the department of Educational Policy Studies at the University of Illinois at Chicago. She has served as a department chair (2016-2020) and Associate Vice Provost for Institutional Diversity (2017-2020) at Indiana University Bloomington. A graduate of the University of Illinois at Urbana Champaign, she began her career as an AERA/IES Postdoctoral Fellow at the University of Illinois at Chicago. Danns has authored three books and most recently completed Crossing Segregated Boundaries: Remembering Chicago School Desegregation (2021), which explores how graduates of desegregated schools crossed racial boundaries to integrate their schools.