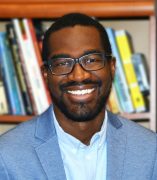 Decoteau J. Irby, PhD
Associate Professor
Educational Policy Studies
Contact
Building & Room:
3230 ETMSW
Address:
1040 W. Harrison St. (M/C 147), Chicago, IL 60607
Office Phone:
Email:
About
Decoteau Irby is an associate professor in the Department of Educational Policy Studies where he teaches and advises in the College's Urban Education Leadership program area. He researches equity-focused school leadership as a lever to improve Black children's academic and socio-emotional experiences and outcomes.
Education
2009 - Ph.D., Urban Education, Temple University (Philadelphia, PA)
2004 - M.A., Geography and Urban Studies, Temple University (Philadelphia, PA)
1998 - B.S., Economics, College of Charleston (Charleston, SC)
Research Currently in Progress
My research explores how equity-focused school leadership can be used as a lever to improve Black children and youth's academic achievement and socio-emotional well-being across a range of K-12 educational settings. Specifically, I am interested in how adults make sense of and use their personal and collective influence and resources to transform educational spaces (including the self) to benefit students of color. My substantive areas of expertise include: school safety and approaches to violence reduction; improving school discipline policies and practices; culturally responsive leadership; and positive school culture and climate. My preferred research methodology is participatory action research. I value and use both qualitative and quantitative data collection and analysis methods including "hybrid" methods such as ethnographic content analysis.
My faculty appointment is in the Department of Educational Policy Studies where I teach and advise primarily in the Urban Education Leadership Ed.D. program. I teach classes in the areas of educational leadership, organizational change, and school improvement using pedagogical approaches grounded in action research, team-based inquiry, and active learning. I am also an affiliate member of the College of Education's Center for Urban Education Leadership. My research and teaching goals are two-prong: (a) to produce critical and pragmatic educational scholarship that offers a range of insights (theoretical to practical) into what is required for schools to provide students of color affirming educational experiences and outcomes and (b) to cultivate within current and future school leaders the will, dispositions, and adaptive skills to lead educational organizations that honor the dignity of Black children and prepare these same students to live excellent lives.