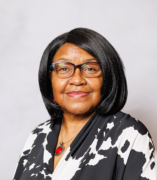 Elise Wilson
Doctoral Programs Advisor
Office for Student Success
Contact
Building & Room:
3149 ETMSW
Address:
1040 W. Harrison St. (MC 147), Chicago, IL 60607
Office Phone:
Email:
About
Elise Wilson, MDiv, is Doctoral Programs Advisor in the College of Education, Office of Student Services (OSS), where she directs and coordinates activities related to admissions and program management.
She has worked in this position for more than 10 years.  However, Elise has served the College of Education for over 15 years; prior to joining OSS, she worked as Assistant to Associate Dean for Academic Affairs.  What she enjoys most about her current position is that it gives her the opportunity to facilitate students achieving their academic dreams and goals.  Elise received her undergraduate degree in Social Studies from Roosevelt University, her Master of Arts in Counseling and Human Services, from Roosevelt University and her Master of Divinity from Chicago Theological Seminary.