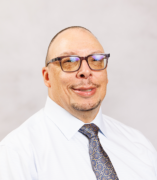 Mark Giles, Ph.D.
Chair and Professor of Educational Policy Studies
Educational Policy Studies
Contact
Building & Room:
3319 ETMSW
Address:
1040 W Harrison St, Chicago, IL 60607
Office Phone:
Email:
About
Dr. Mark S. Giles joined the College of Education at the University of Illinois Chicago in August, 2022 as Professor and Department Chair in Educational Policy Studies. His scholarship and teaching interests include 20th century African American history focusing on the complexities of racial dynamics and racism on Black communities, African American educational leadership (critical biographies) and Black student agency (K-12 and college/university levels), social justice-equity leadership in schools and colleges, African American spirituality, critical race studies, and qualitative methodologies.
He earned a Bachelor of Arts degree from the University of Cincinnati in Afro-American Studies, a Master of Science degree from Miami University-Ohio in College Student Personnel, and his PhD from Indiana University in the Department of Educational Leadership and Policy Studies, with a minor in 20th century United States history. He has extensive professional experiences in research, teaching, and service across several universities and held multiple program and departmental level leadership positions. He has served in diversity-focused administrative positions, worked as an academic advisor, and in urban community affairs.
Formerly, Dr. Giles served as a Professor in the Department of Educational Leadership and Policy Studies, with a joint appointment in the Department of Race, Ethnicity, Gender and Sexuality Studies at the University of Texas San Antonio (UTSA), and from 2011-2014 served as Director of the African American Studies program. Prior to joining UTSA, Dr. Giles was an Assistant Professor at Miami University-Ohio.