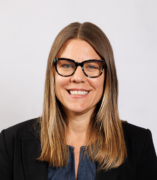 Jennifer Olson, PhD
Clinical Associate Professor
Coordinator, Secondary Education Programs
Curriculum & Instruction
Office of Academic Affairs
Pronouns: She/Her/Hers
Contact
Building & Room:
1250 ETMSW
Address:
1040 W. Harrison St. (MC 147), Chicago, IL 60607
Office Phone:
Email:
Related Sites:
About
Jennifer Olson, PhD is a clinical associate professor in Curriculum & Instruction. Jennifer earned her doctorate in Urban Education Policy Studies with a specialization in Social Foundations of Education from University of Illinois at Chicago. She coordinates Secondary Education programs and teaches curriculum, instruction, & assessment courses to undergraduate and graduate secondary education students. Jennifer's current research interests include urban high school reform, urban teacher preparation and professional development, and student voice. Jennifer's research focus on urban high school reform is informed by her years of teaching in Chicago Public Schools, giving her an informed perspective of how policy moves from theory to practice.
Selected Publications
De Voto, C., Olson, J. D., & Gottlieb, J. J. (2021). Examining diverse perspectives of edTPA policy implementation across states: The good, the bad, and the ugly. Journal of Teacher Education, 72(1), 42-55.
Cummings, M. I., & Olson, J. D. (2020). The importance and potential of community partnerships in urban schools in an era of high-stakes accountability. Improving Schools, 23(2), 109-124
Olson, J. D., & Rao, A. B. (2017). Adopting the edTPA as a High-Stakes Assessment: Resistance, Advocacy, and Reflection in Illinois. Mid-Western Educational Researcher, 29(4).
Dreyer, S., Kotche, M., Olson, J., & Shyjka, A. (2017, June). Bioengineering Experience for High School Science Teachers. In 2017 ASEE Annual Conference & Exposition.
Olson, J. D., & Rao, A. B. (2016). Becoming a Culturally Responsive Teacher: The Impact of Clinical Experiences in Urban Schools. Journal of Urban Learning, Teaching, and Research, 12, 133-141.