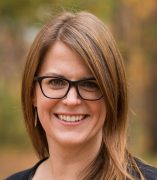 Kristine Schutz, PhD
Assistant Professor
Co-Coordinator of MEd Language, Literacies, and Learning
Curriculum & Instruction
Pronouns: she/her/hers
Contact
Building & Room:
1212 ETMSW
Address:
1040 W. Harrison St. (MC 147), Chicago, IL 60607
Office Phone:
Email:
Related Sites:
About
Dr. Kristine Schutz's research focuses on improving literacy instruction in elementary classrooms, particularly for children from linguistically and culturally diverse backgrounds.  She conducts research on teacher education that situates pre-service and practicing teachers' learning inside of practice. She is also interested in designing authentic and purposeful literacy learning opportunities that support children in learning to comprehend and compose complex texts. Prior to coming to UIC, Dr. Schutz spent three years as the lead literacy research and design specialist at TeachingWorks at the University of Michigan. In this role, she developed materials to support literacy teacher educators' implementation of a practice-based curriculum for teacher education.  She continues to explore these topics in her own research.  Dr. Schutz is a former dual language teacher and brings experience working with emergent bilingual children to her research and work with teachers.
Selected Grants
UIC Community Engagement Grant, From Page to Stage: Reading, Adapting, and Performing Culturally and Linguistically Relevant Children's Literature, Primary Investigator
Selected Publications
Schutz, K. M., & Rainey, E. C. (2020). Making sense of modeling in elementary literacy instruction. The Reading Teacher, 73(4), 443-451. DOI: 10.1002/trtr.1863
Schutz, K. M., Woodard, R., Diaz, A., & Peek. W. (2019). The disruptive potential of humanizing literacy pedagogies in elementary teacher education. The SoJo Journal: Educational Foundations and Social Justice Education, 5(1), 43-60. excerpt
Schutz, K. M., & Danielson, K. A. (2019). (Re)shaping representations of practice inside rehearsals of interactive read alouds: The complex work of teacher educators. Literacy Research and Instruction, 1-21. DOI: 10.1080/19388071.2019.1638472
Hopkins, M., &  Schutz, K. M. (2019). Bilingual teacher leadership: Supporting linguistically responsive practices and parent engagement in schools. NABE Journal of Research and Practice, 9(2), 96-109. DOI: 10.1080/26390043.2019.1589297
Schutz, K. M., Danielson, K. A., & Cohen, J.J. (2019). Approximations in English language arts: Scaffolding a shared teaching practice. Teaching and Teacher Education, 81, 100-111.  DOI: 10.1016/j.tate.2019.01.004
Schutz, K. M.,  & Woodard, R.  (2019). "The super moon didn't have a cape!": Seeing and positioning young literacy learners as sense-makers. Illinois Reading Council Journal, 47(2), 2-16. Link to article
Schutz, K. M., Shaughnessy, M., & Grossman, P. (2018). Approximations of practice in teacher education.  In P. Grossman (Ed.), Teaching core practices in teacher education (pp. 57-83). Boston, MA: Harvard Education Press.
Cartun, A., Schutz, K. M., Kelley-Peterson, M., & Franke, M. (2018). Core practices and the teacher education curriculum: Stories of practice. In  P. Grossman (Ed.), Teaching core practices in teacher education. Boston, MA: Harvard Education Press.
Schutz, K. M., & Hoffman, J. V. (2017). I practice teaching: Transforming our professional identities as literacy teachers through action research. The Reading Teacher, 71(1), 7-12. DOI: 10.1002/trtr.1592
Palincsar, A.S. & Schutz, K. M. (2011). Reconnecting strategy instruction with its theoretical roots. Theory into Practice: New and Critical Perspectives of Reading Comprehension and Strategy Instruction, 50(2), 85-92. DOI: 0.1080/00405841.2011.558432
Notable Honors
2018-2019, Teaching Recognition Program Award for Outstanding University Teaching, University of Illinois at Chicago
Education
PhD, University of Michigan, Educational Studies: Literacy, Language & Culture
MSEd, Northwestern University, Education & Social Policy
BA, University of Michigan, Spanish & Organizational Studies