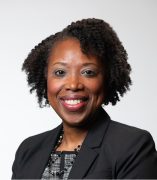 Marisha Humphries, PhD
Associate Professor
Coordinator of MEd Youth Development
Educational Psychology
Contact
Building & Room:
3529 ETMSW
Address:
1040 W. Harrison St. (M/C 147), Chicago, IL 60607
Office Phone:
Email:
About
Marisha L. Humphries is an associate professor of Educational Psychology whose research research seeks to develop an integrated approach to studying African American children's normative and prosocial development, and utilizing this basic research to create culturally and developmentally appropriate school-based behavior promotion programs. Her work examines African-American children's emotional and social competence, and the ways in which schools can support children's development in this area. Due to her interest and experience in applied research, Dr. Humphries' work considers the contextual and cultural factors associated with children, families, and schools. Her research has been published in journals such as the Early Education & Development, Journal of Research on Adolescence, Clinical Child and Family Psychology Review, Journal of the American Academy of Child and Adolescent Psychiatry, Journal of Black Psychology, and Infant Mental Health Journal.
Selected Publications
Humphries, M. L., Williams, B., & May, T. (2018). Early Childhood Teachers Perspectives on Social-Emotional Competence and Learning in Urban Classrooms. Journal of Applied School Psychology, 34, 157-179. https://doi.org/10.1080/15377903.2018.1425790
Humphries, M. & Iruka, I. (2017). Ring the alarm: Moving from educational gaps to educational opportunities for Black students. In I. U. Iruka, S. Curenton, & T. Durden (eds.), African American Children in Early Childhood Education: Making the Case for Policy Investments in Families, Schools, and Communities (pp.15-34). United Kingdom: Emerald Group Publishing Limited.
Humphries, M. (2016). Social emotional competence: The missing but necessary ingredient in facilitating Black children's academic outcomes & positive Development. In Black Child Development Institute – Chicago, Being Black is not a risk factor: Statistics and strengths-based solutions in the state of Illinois (pp.30-33). National Black Child Development Institute: Washington, DC.
Humphries, M. L., Strickland, J., & Keenan, K. (2014). African American preschoolers' social and emotional competence at school: Influence of teachers and mothers support. Journal of Education, 194, 11-18.
Education
2001 - PhD, University of Illinois at Chicago, Clinical Psychology
1998 - MA, University of Illinois at Chicago, Clinical Psychology
1994 - BS, Howard University, Psychology
Licensures and Certifications
Licensed Clinical Psychologist, State of Illinois
Professional Memberships
Society for Research in Child Development
American Psychological Association