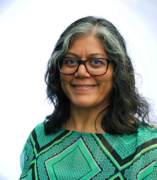 Manali Sheth, Ph.D.
Assistant Professor
Educational Policy Studies
Pronouns: She/Her/Hers
Contact
Building & Room:
3404 ETMSW
Address:
1040 W. Harrison St, Chicago, IL 60607
Email:
About
Dr. Manali Sheth is an Assistant Professor in the UIC College of Education Department of Educational Policy Studies. Her research interests focus on disrupting educational injustices experienced by multiply marginalized students of color in their capacities as knowers and learners. Working from a critical race and intersectional feminist pedagogy lens, Dr. Sheth examines how academic conditions exacerbate educational inequities as well as how transformative pedagogies can cultivate critical academic praxis across disciplines, including STEM. Her current and future research projects illuminate how relationships of power, knowledge, and practice shape and can be shifted through pedagogy, curriculum, and policy for students of color whose experiences, interests, and needs are often marginalized in equity and justice initiatives across secondary and post-secondary academic settings.
Selected Publications
Sheth, M. J. & Takamori, A. (2022). Subverting invisibility: Connectivity as dignity-affirming pedagogy. In D. J. Irby, C. Anderson, & C. Payne (Eds.). Somebodiness: Theory and methods of dignity-affirming education. Teachers College Press.
Sheth, M.J. & Salisbury, J.D. (2022). "School's a lie": Towards critical race intersectional pedagogy for youth intellectual activism in policy partnerships. Educational Policy, 36(1), 100-141.
Sheth M. J. & Croom N. N. (2021). Chronicles exploring hegemonic civility and evisceration of academic freedom for critical Womyn of Color. In K. Bhattacharya & R. Dutt-Ballerstadt (Eds.). Civility, free speech and academic freedom in higher education: Academics on the margins (pp. 145-162) Routledge.
Salisbury, J.D., Sheth, M.J. & Angton, A. (2020). "They didn't even talk about oppression": School leadership protecting the Whiteness of leadership through resistance practices to a youth voice initiative. Journal of Education Human Resources. 38(1), 57-81.
Sheth, M.J. (2019). Grappling with racism as a foundational practice of science teaching. Science Education. 103(1), 37-60.
Education
PhD - University of Wisconsin-Madison, Education, Curriculum & Instruction
MSEd - Northwestern University, Secondary Science Education
BA - Northwestern University, Biological Sciences, Neurobiology
Professional Memberships
American Educational Research Association
American Educational Studies Association