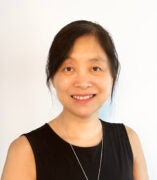 Yue Yin, PhD
Professor
Coordinator of on-Campus MESA MEd
Educational Psychology
Contact
Building & Room:
3517 ETMSW
Address:
1040 W. Harrison St. (MC 147), Chicago, IL 60607
Office Phone:
Email:
CV Download:
About
Yue Yin is a professor in the Department of Educational Psychology whose research interests and expertise include assessments, science education, research design, survey design, and applied measurement/statistics.
Before moving to UIC, she was an Assistant Professor in the Department of Educational Psychology at the University of Hawaii at Manoa for three years. She obtained her PhD in Science Education with a focus on Educational Assessment and MA in Psychology at Stanford University. She also obtained her MA in Education and B.S. in Chemistry at Peking University.
Since she obtained her Ph.D., Dr. Yin has taught various courses: educational assessment, research methodology, educational measurement, and various statistics courses. At UIC she have taught Educational Measurement, Analysis of Variance, Regression Analysis, Multivariate Analysis, and Educational Measurement, and Hierarchical Linear Modeling.
Selected Grants
National Science Foundation, Development of Assessment Protocols for Assessing Computational Thinking. Amount: $898,564; Duration: October 2015 - September 2018., Co-Principal Investigator (PIs: Roxana Hadad & Yue Yin)
Institute of Education Sciences, Efficacy of the Connected Chemistry Curriculum. Amount: $3,279,937; Duration: August 2017 - July 2022, Co-Principal Investigator (PIs: Michael Stieff, Alison Superfine, & Yue Yin)
National Science Foundation, Developing Organizational Capacity to Improve K-8 Mathematics Instruction. Amount: $4,455,644; Duration: July 2019 - June 2024, Co-Principal Investigator (PIs: Allison Castro, Yue Yin, Ben Superfine, & Shelby Cosner)
National Science Foundation, Collaborative Research: Supporting Instructional Decision Making: The Potential of Automatically Scored Three-dimensional Assessment (PASTA). Amount: $596,575; Duration: September 2021 - August 2025, Principal Investigator (PIs: Yue Yin & Sania Zaidi)
Selected Publications
Lin, Q., Yin, Y., Tang, X., Hadad, R., & Zhai, X.  (2020) A systematic review of empirical research on maker activity assessments. Computers & Education. 157, 103944
Liu, Y., Yin, Y., & Wu, R. (2020). Measuring graduate students' global competence: Instrument development and an empirical study with a Chinese sample. Studies in Educational Evaluation. 67, 100915
Pan, T., & Yin, Y. (2020). Improving the accuracy of identifying the lognormal curve in the Johnson system. Communications in Statistics – Simulation and Computation, 49(5), 1321-1332.
Tang, X., Yin, Y., Lin, Q., Hadad, R., & Zhai, X. (2020). Assessing computational thinking: A systematic review of empirical studies. Computers & Education, 148, 103798.
Yin, Y., Hadad, R., Tang, X., & Lin, Q. (2020). Improving and assessing computational thinking in maker activities: The integration with physics and engineering learning. Journal of Science Education and Technology, 29(1), 189–214.
Zhai, X., Yin, Y., Pellegrino, J., Haudek, K. & Shi, L. (2020). Applying machine learning in science assessment: A systematic review. Studies in Science Education, 56(1), 111-151.
Pan, T., & Yin, Y. (2017). Using the Bayes factor to evaluate person fit in item response theory. Applied Measurement in Education, 30(3), 213-227.
Yin, Y., Olson, J., Slovin, H., Olson, M., & Brandon, P. (2015). Comparing two versions of professional development for teachers using formative assessment in networked mathematics classrooms. Journal of Research on Technology in Education, 47(1), 41-70.
Yin, Y., Tomita, M. K., & Shavelson, R. J. (2014). Using formal embedded formative assessment aligned with learning progressions to promote conceptual change in science. International Journal of Science Education, 36(4), 531-552.
Professional Leadership
Editorial Board, Journal of Research in Science Teaching
Education
2005 - PhD, Stanford University, Science Education and Assessment
2003 - MA, Stanford University, Psychology
2000 - MA, Peking University, Education
1997 - BS, Peking University, Applied Chemistry
Research Currently in Progress
Dr. Yin is passionate about using assessment to help improve instruction and learning. She has conducted research on various assessments, such as performance assessment, concept mapping assessment, formative assessment, computational thinking assessment, and assessments used in makerspace. The subject contents in her research have involved physics, chemistry, biology, mathematics, and statistics, ranging from K-12 to higher education. In her research, she uses learning theory as a foundation, measurement/statistics as tools, to explore and examine ways of using assessments to improve learning and instruction.
Currently, Dr. Yin and her doctoral students are conducting research on assessments used to measure and improve complex skills, e.g., computational thinking and three-dimensional (3D) learning. She is also interested in the assessments that are used to measure and improve teaching. In the new grant from the NSF, Dr. Yin and her colleagues will assist middle school science teachers in using 3D assessments. They are exploring three research questions:
How should the information be presented about knowledge-in-use assessment tasks in automated scoring reports (AutoRs) to support teachers' instructional decision-making in science teaching?
What are the features of pedagogical content knowledge supports (PCKSs) that could support teachers' use of AutoRs to make effective instructional decisions?
To what degree do the AutoRs and PCKSs help teachers with instructional decision-making in ongoing classroom teaching and impact student 3D learning?